How Does This Ayurvedic Food Improve Wellness?
CLINICAL AYURVEDIC REVIEW
Plantains have a festive yellow color and as you might guess, they are members of the banana family. While any Caribbean island dweller relishes a sweet banana for dessert or snacks, plantains are the preferred savory option for a meal.
Plantains are starchier and have a lower sugar content than dessert bananas. This means that, while they are technically a fruit, they tend to be treated more like a vegetable. Like potatoes but lighter, plantains are a satisfying, gluten free option. Blended, they make a great
pancake
. Under ripe, they are more starchy and green in colour, overripe they are more sweet and tend to turn yellow and black.
Plantains are an exciting carbohydrate option for gluten free clients, helping celiac individuals diversify beyond potatoes. They are a source of complex carbohydrates, vitamins and minerals, while being easy to digest. Notably, they are fibre-rich and contain Vitamin C, magnesium and potassium.
Plantains are thought to have originated in Southeast Asia. You'll find them easily in India, Africa, Egypt, Indonesia, Pacific Islands and tropical America. Plantains are a food staple in much of the tropical world. In fact, plantains make up about 85% of all banana cultivation worldwide! In Latin America, they are frequently plated alongside black beans, and garnished with red pepper flakes and cilantro. Or, smashed into tostones (Cuba), pureed as in mute (Columbia). In India, plantains are fried into a savory donut (Gulgulas).
Footnote: The information for this article was in part gathered from a 2021 study and survey of 26 students of Ayurveda who experimented with plantain. During the study, students ate plantain for 3 days and journaled the pharmacological effects. This study was sponsored by the
Joyful Belly School of Ayurveda
, and specifically the Mastering Ayurvedic Digestion & Nutrition certification course.
Cooling Anti-Inflammatory for the Skin
Plantain's strong astringency constricts peripheral capillaries in the skin, reducing blood flood in the skin. This has a cooling and drying effect. Plantains reduce sweat. One student writes, "My skin felt colder. I got a chill within just a few mins of eating green plantains." Another reports, "I kept a heater near me."
The constriction of blood vessels reduces heat conditions and inflammation in the skin. It reduces skin redness, swelling, hives, and weeping rashes.
The vasoconstriction can actually make the skin pale. One student wrote, "My tongue is usually full of life - a dark pink. Later I was terrified as I saw my tongue turn white & pale as a ghost. And it trembled inside my mouth! The life was also taken from my lips as those too went from red & moist to dry & pale."
The anti-inflammatory effect isn't limited to the skin. One student reports, "My GI tract has felt a bit inflamed recently, and the plantain might have counteracted that a little bit."
These astringent cooling effects are ideal for Pitta, while aggravating Vata and Kapha. Generally, plantain is supportive to Pitta dosha because of their cooling, grounding nature. Pitta-dominant individuals usually have strong digestion which can benefit from something a little more difficult to digest, like plantains. Plantain made these cold Vata and Kapha students feel heavy and unmotivated, "I could actually say sad, tired and a feeling of 'why bother.' Plantain can be too drying and too difficult to process for the Vata digestion. Kapha-dominant individuals may find them to be too heavy for their system and, so, could benefit from some warm spicing if they're going to take this ingredient.
Grounding & Comforting
The starches and fiber in plantain nourishes the slow release of energy, making plantain the ideal comfort food. As a complex carbohydrate, they are higher in fiber and digest more slowly than simple carbohydrates like processed baked goods. This means that the plantain will raise the glucose level in the blood across a longer period of time, rather than a big spike and a sharp drop. It is important to remember that some simple carbohydrates, like milk, are very nutrient-dense, so both can be present in a healthy dies. Plantain's cold, astringent & heavy nature satisfies the stomach for a long time.

One student writes, "I noticed a pleasant change in my pregnancy nausea while eating green plantains. I felt satiated longer than with more simple foods like rice, which helped to keep my nausea at bay for a little longer."

Another writes, "It was soothing to my stomach." Another states, "My emotions were comforted and stabilized by the sweet and starchy flavor. I felt slower, cool, calm, and collected."

For others, the heavy earthiness of plantain was too much, "This lack of taste made it feel dull. Like a thick potato, plantain was dense, solid and heavy in my mouth." Another states, "It was dulling to my body in general."
Normalizes Heart Rate & Reduces Cramping
The potassium in plantain is useful to reduce cramping. The mineral is an electrolyte which works with sodium to keep the body's water levels balanced and the nerves firing correctly One student writes, "My uterine cramps have calmed down." Yogurt with banana is a great balance of potassium, calcium and magnesium to reduce cramping - but this is considered a bad food combination in Ayurveda. Plantain could be served with chickpeas which are a good source of magnesium and calcium themselves.

Potassium also normalizes the heart rate and reduces blood pressure. One student writes, "My heart rate slowed as did my circulation."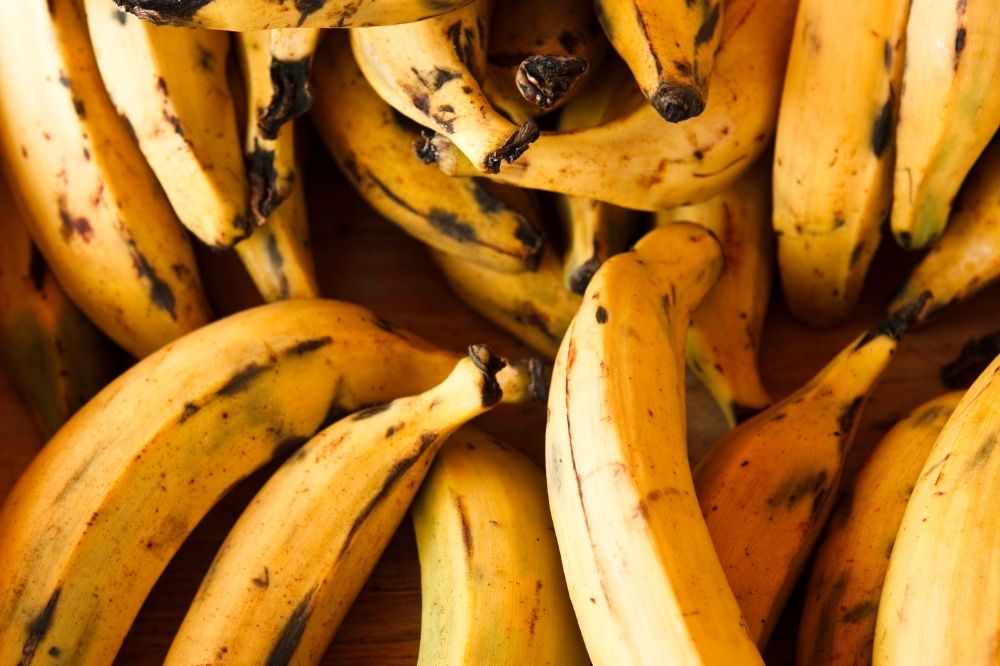 Recipes with Green Plantain: Simple Plantain Pancake (Gluten Free)
Plantain & Weight Loss
Botanically, plantains are no different than sweet "dessert" bananas. But they are firmer and lower in sugar content than dessert bananas. Their cold astringency makes plantains a useful
appetite suppressant
for those trying to lose weight. In Nigeria, plantains are used for diabetes for its appetite suppressing qualities and low glycemic index. One student noted, "My digestion seemed slower I didn't feel like I needed to eat especially in the evenings around dinner." Another says, " I did not want to eat the whole portion because I felt full."
Effect on Digestion & Elimination
The fiber in plantains scrapes the bowels clean of mucus and other accumulations. However, these fibers (resistant starches) are hard to digest. Due to difficulty of digesting undercooked plantains, plantains increased burping, gas and bloating for some students. These students felt their digestion was bogged down and slow. Their stomach felt heavy and several students even felt nauseous. When cooked well, and following some of the preparations in the cooking section below, plantains are easier to digest. Some pungent or heating spices can also be used to aid digestion. You'll see this in cultures who use plantain often, such as spicy fried kelewele in West Africa. Cardamom would also be a great choice when cooking with plantain because of its strong aromatic qualities. This would support the digestion of those difficult fibres.

Plantains dry out the mouth. One student remarked, "Plantain's astringency immediately drew all my saliva inward. It made my mouth chalky and dry like sandpaper. My saliva was thicker after the experience." Another stated, " I had to drink water immediately to even get my first few bites down."

The dryness and astringency of plantain increases cracks on the tongue. To counter the dryness of plantain, it could be helpful to take it as part of an electrolyte-rich soup/stew like this one, particularly through the colder months. Or, to add a sour limes or tamarind sauce. The astringency also makes the tongue more pale. Plantain's starchiness thickens the tongue coating and makes it whiter.

Under ripe plantains are highly astringent. They firm up stools, which is useful in loose stools and diarrhea. One student remarked, "My feces were drier and I even skipped a day." Students reported stools were generally harder in consistency.
Buying & Preparation
Plantains are available in most groceries and cheap. The greener the plantain, the more astringent and unripe. The more yellow and black spots, the riper and softer. Ripe plantains turn to mush when fried, but green plantains retain their shape. Ripe plantains are much sweeter, but also have a pungent fermented flavor.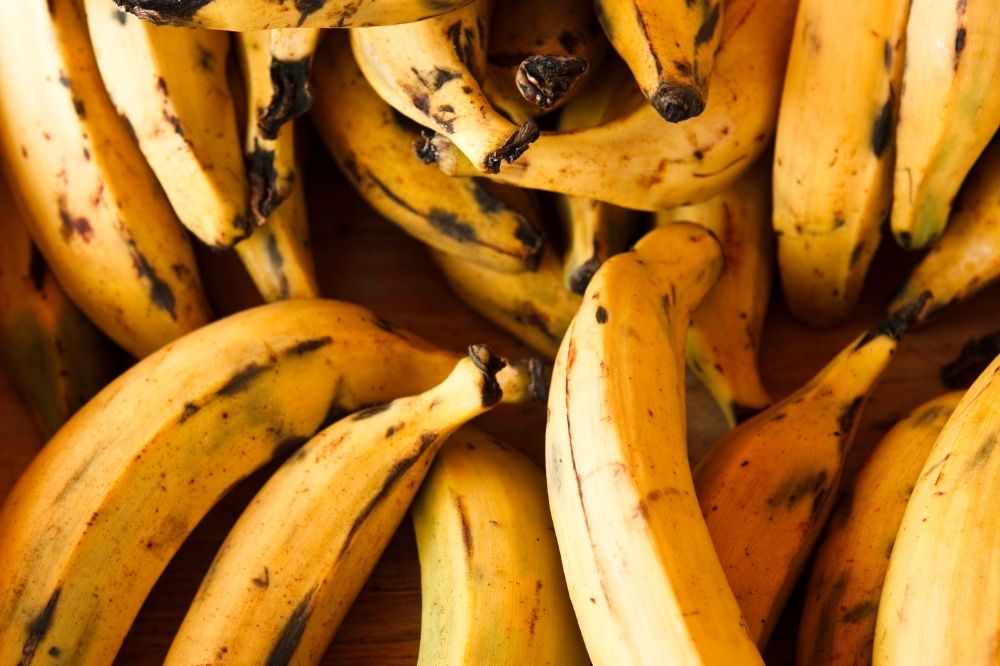 Recipes with Green Plantain: Plantain Cake with Shrimp and Garlic (Gluten Free)
Cooking Green Plantain
Plantains are very astringent and cannot be eaten raw. Newbie plantain chefs often undercook them, rendering them inedible. When a plantain is well-cooked, it softens. Plantains are usually steamed, boiled, or fried. When I saute them, I cut them thin and salt them before cooking. I cook them for 5 minutes on each side, in coconut oil, until slightly browned. For tostones, cut them into inch thick slices and fry in plenty of oil. Once cooked, remove from heat and let cool. Then, smash with the bottom of your favorite mug, and fry again. Or, smash an entire plantain, fried whole, into a flat pancake.
For less oil, use an air fryer. Alternatively, steam or boil plantain up to an hour to soften them, depending on how they are cut.
Plantains are often served with tangy sauces and spices to help their digestibility and flavor. Examples include chutneys with sour taste, a dollop of sour cream, or an avocado dip. Oil, salt, spices, and tangy sauces moisturize and counteract plantain's astringency. One student remarked, "No matter how much ghee I used it always seemed to be absorbed by the plantain." Garnish the plantain with cilantro, red pepper flakes, chopped red onion, and lime juice. Serve over a bed of arugula. Plantains are frequently plated with shrimp, or alongside pork in Cuba.
Browse Recipes
Learn about the health benefits of green plantain for FREE
You'll receive free access to our entire website including healthy recipes, nutritional diet plans, medicinal uses of ingredients, & ayurvedic health tips. Sign in once and you can use our website indefinitely..