How Does This Ayurvedic Food Improve Wellness?
CLINICAL AYURVEDIC REVIEW
Every time I stop in a country store of the Southern Appalachian, I find a jar of sorghum molasses. "A couple of generations ago, sorghum was a staple sweetener in the South. It was cheap and plentiful."
Sorghum flour is now gaining popularity among health enthusiasts as a gluten free alternative to wheat.
Sorghum may be eaten as a whole berry, or ground into flour. The flour has a fine, tender texture and delicate mouth feel. Just as smooth, demulcent, gooey as oatmeal or wheat but not as heavy. I noticed my sorghum pancakes were light and fluffy, delightful to eat. One student writes, "Making a pancake-of-sorts with the sorghum flour was very satisfying. The smell in the kitchen, and savory flavor in my mouth, brought back that Saturday morning satisfaction without the heaviness of wheat."
Chef Michelle Bernstein of Cena in Miami says the whole berries are "very toothsome and filling." Chef Marc Forgione of Lobster Press NYC says, "The closest thing I can compare it to is heirloom farro; it's got a great, earthy bite to it, and if you cook it risotto style, it will have a nice chew to it." For a fun twist, the berries can also be popped like popcorn.
Sorghum is closely related to sugarcane. It is slightly sweet and can be used to make alcohol.
The plant Sorghum bicolor is the 5th most important cereal crop grown in the world. It is popular not only in the southern USA, but also in Africa, and India.
Footnote: The information for this article was in part gathered from a 2020 study and survey of 13 students of Ayurveda who experimented with sorghum. During the study, students ate sorghum for 3 days and journaled the pharmacological effects. This study was sponsored by the
Joyful Belly School of Ayurveda
, and specifically the Mastering Ayurvedic Digestion & Nutrition certification course.
Light, Easy to Digest.
"My whole body felt lighter and more energetic than when I eat a lot of wheat," says one student. Kapha individuals will enjoy sorghum because it is drier and lighter than wheat. It won't put you to sleep after eating. It's a great grain if wheat and dairy are causing too much mucus or weight gain.
It's unusual to find a light food that is nourishing AND satisfying. Sorghum is like white rice in lightness, but has a more robust nutritional profile. Most high protein, nourishing foods are heavy. Most light foods, like salads, are not considered comfort foods. But sorghum is both.
Satisfying, Relaxing But Light
Sorghum is especially great as a comfort food because it is relaxing. One student reports, "My core feels more grounded, and that is pleasant."
The ample sweet taste, and high magnesium profile, relaxes muscles. Sorghum's relaxing nature can be helpful for many conditions, from insomnia to epilepsy. It's high protein, complex carb, sugar balance makes it great for epileptics.
For a great grounding, yet light food, sorghum can't be beat!
Lungs
Brazilians decoct the seed for bronchitis, cough and other chest ailments. They use the ash for goiters. Arubans place hot oil poultices of the seeds on the backs of those suffering with pulmonary congestion.
Chinese medicine lists it as a cough suppressant and bronchodilator that resolves phlegm. The root is considered the most potent part of the plant for lung conditions.
Blood & Muscles
The high iron content of sorghum nourishes the blood. Sorghum plant sap is a known remedy for anemia. It is especially helpful in sickle cell anemia, as it builds hemoglobin. Studies suggest the sap is high in antioxidants and anti-inflammatory. Sorghum would therefore be considered Pitta pacifying.

Sorghum is slightly warming. However, its mild vasodilating quality disperses excess heat. One student reported a "pulsing sensation and lightness in the face, arms, and legs." Another said, "I had a feeling of lightness making my head feel like it is levitating."

Sorghum is sweet but a complex carbohydrate with a low gylcemic index. Complex carbohydrates satisfy your hunger longer and are healthier for diabetes patients.

As a diuretic, sorghum may reduce blood pressure, relieve edema, and flush the kidney of toxins.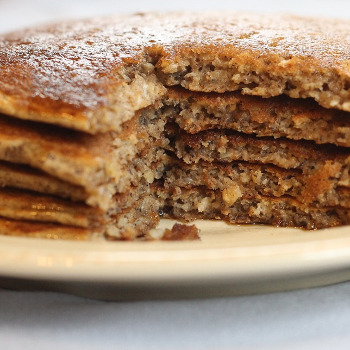 Recipes with Sorghum Flour: Multigrain Pancakes
Digestion & Elimination
Students reported that stools were more solid and better formed, after eating sorghum. Here's why:
Fiber bulks up the stool.
Sorghum reduces inflammation which can cause diarrhea.
It digests easily - important if your having digestive upset.
All these qualities useful for client with diarrhea
As a diuretic, sorghum can even be constipating. One student in our class undercooked sorghum, , and then had symptoms resembling a bezoar. A bezoar is a mass in the intestines, occurring when food sticks together and forms a solid substance. The student notes:
"A few minutes after eating I noticed a very strong sharp feeling at the center of my upper belly. It felt like I had a hard lump right in that spot. I did have a few very strong burps thereafter.

My intestines were spasming. I felt a floating bloating feeling in my lower belly. It started on my right lower belly and then traveled. That floating bloating feeling continued to travel back and forth. It kept moving from my lower belly to the right side. My whole body felt tense after awhile, especially my shoulders, neck and the back of my head.

These sensations continued for hours. Eventually I went to sleep. When I woke up, it was gone."
Chef Tom Kaplan, owner of Hugo's in Los Angeles, warns - "[When cooking sorghum, ] let it get really soft, and it will firm up when it cools."
Conclusion
Sorghum is a nourishing and relaxing yet unusually light grain. Bitter and astringent aftertastes hint at Sorghum's Kapha pacifying nature. It is ideal for a stressful day when you want something satisfying that won't weigh you down.
Buying & Preparation
Darker sorghums have more antioxidants and anti-inflammatory compounds than lighter varieties. Also, remember to look for sorghum under its many other names: In India it is known as jowar. Other names include great millet, Indian millet, milo, durra, or shallu.
Recipes with Sorghum Flour: Gluten Free Cake Batter
Cooking Sorghum Flour
Its slightly astringent and bitter aftertastes are not as pleasant as wheat. This is especially true for desserts with subtle flavors like vanilla cake. But sorghum is an ideal substitute for wheat in savory recipes like muffins and pancakes.
If you plan to bake anything taller than a pancake, sorghum will need a binder. Otherwise it may not rise, making the end product more dense. Without a binder it will be brittle. When I cook with gluten free products, I often stick to cookies and pancakes, which don't have to rise as much.
Browse Recipes
Learn about the health benefits of sorghum flour for FREE
You'll receive free access to our entire website including healthy recipes, nutritional diet plans, medicinal uses of ingredients, & ayurvedic health tips. Sign in once and you can use our website indefinitely..