How Does This Ayurvedic Food Improve Wellness?
CLINICAL AYURVEDIC REVIEW
Spelt packs a robust and earthy flavor. An ancient cousin of wheat, this centuries-old hearty grain sustained Roman soldiers as they marched. Spelt makes you feel sturdy and satisfied but is surprisingly light and easy to digest.
Toast some spelt berries and the sweet and nutty aroma will fill your kitchen and belly with warmth. The crunchy texture transforms into a chewy and gooey center as you bite into them.
Compared to wheat, it leaves a slightly rough and dry sensation in the mouth. This rustic feel has gained popularity in artisan breads and cereals. Plus, the antique grain is more nourishing than modern wheat.
Footnote: The information for this article was in part gathered from a 2019 study and survey of 11 students of Ayurveda who experimented with spelt. During the study, students ate spelt for 3 days and journaled the pharmacological effects. This study was sponsored by the
Joyful Belly School of Ayurveda
, and specifically the Mastering Ayurvedic Digestion & Nutrition certification course.
History
Wheat was first cultivated around 10,000 years ago when society transitioned from hunting and gathering to agriculture based practices. Some of the earliest cultivars of wild wheat include einkorn, emmer, and varieties mixed with wild grass. Spelt is an ancient variety of wheat that was an important staple during the bronze age. The earliest evidence of spelt dates back to 5,000 B.C..
Modern durum and bread wheat are long lost cousins of these ancient grains.. It is durum wheat and bread wheat that dominate our markets and bakeries today.
As wheat grew in popularity, growers began experimenting with hulled forms of wheat. These hulled forms are known as spelt. The husk is different to separate from the flower of spelt, and that is part of its rustic character. Hulled wheats are called "farro" in Italy.
Today, most spelt is cultivated in Ohio as an alternative to barley and oats for grain feed for livestock. But spelt is not just for the birds! Spelt can be a sweet and sustaining addition to your meal. The extra protein that spelt has in comparison to wheat is another perk.
A Lighter Alternative to Wheat
The supermarkets today are filled with wheat alternatives, yet most of these options don't provide the sweet and satisfying feel of wheat. In contrast, spelt is interchanged seamlessly. Due to the familial relationship, spelt slightly alters the taste of baked goods, only. One student from our
Ayurveda certification course
reports "it tasted very similar to wheat pasta in texture, this made me very happy." Another remarks, "The spelt pasta felt lighter on my digestion and not as difficult as the regular pasta".
So what makes spelt easier to digest? It has a lower amount of fructan carbohydrates which tend to digest slowly and poorly. Those carbohydrates hinder the digestive fire (agni).
In fact, experimenting with spelt can be a great way to distinguish a gluten intolerance vs. a fructan intolerance. Many folks who can't digest gluten can easily palate spelt. However those with a true gluten allergy should steer clear of spelt.
Spelt & The Doshas
Though lighter than wheat, spelt is ultimately heavy, gooey, and smooth. It's sweetness and heartiness make spelt a great option in the winter, when the body naturally craves a cozy dish.
Vata and Pitta dosha benefit most from the smooth and heavy qualities
(gunas)
of spelt. Weak body types will benefit from the heartiness of spelt due to it's gentle and restorative actions.
Kapha's will find spelt lighter on their system than regular wheat, so spelt makes a great substitute in baked desserts. However, Kapha must still exercise moderation - spelt is building and Kapha aggravating in the end. So for daily meals, Kapha's do better with lighter grains such as quinoa or millet.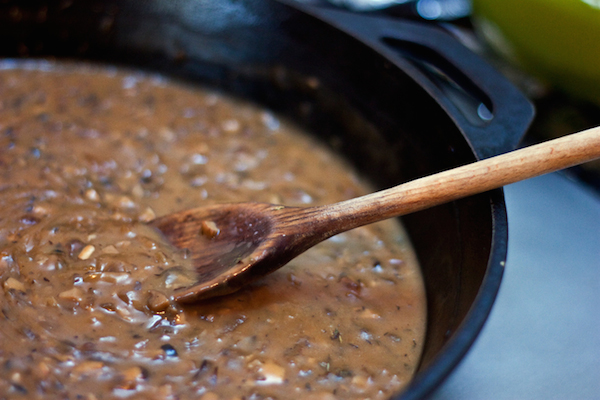 Recipes with Spelt Flour: Rosemary Mushroom Gravy
Elimination
The anabolic and heavy nature of spelt may cause cause constipation in Kapha body type if it's eaten in excess. Use caution with refined or white spelt flour, it's had the fiber removed from it. Fiberless flours often induce constipation.
The heaviness may be too much for Kapha, but Vata's airy nature can benefit greatly! The sweetness will bring earth and water to Vata, which may be helpful for relieving constipation they're prone to. Don't get too spelt happy though, as the large amount of fiber can be too rough and dry for Vata. Vata's can balance the dryness of spelt by adding a bit of good quality fat, such as ghee or coconut oil to help mitigate the dryness.
Spelts dry quality will help pull excess water from the gastrointestinal tract, making it great for Pitta type loose stool.
Empty Carbs & Emotional Eating
But truth be told, bread is gold! Bread is often so satisfying and sweet that it can trigger an addiction. Carbs cause your blood sugar level to spike. This gives you a temporary energy jolt, familiar anytime you eat a tasty sugary snack. Equally notable is the crash induced after this burst of energy. Brain fog, lethargy, lack of motivation, etc. are some common sensations connected to this energy crash. This pattern of extreme increase and decrease of blood sugar is what leads to candida, toxicity (ama), and thick saliva.

So how can you tell if you've had too much spelt? Pay mind to the taste on your tongue 15 minutes after eating. If you detect a funky taste, try a smaller portion of spelt the next time. Generally, a foul taste in the mouth indicates there's been too much sweet taste. Excess sweet taste ends up feeding bad bacteria, resulting in the bad taste and smell of the breath.
Whole Grains & Health
Whole grain is a health market term that has been popping up more and more nowadays. Rightfully so, as whole grains do pack a nutritious punch.

Whole grains digest slowly which provides a more stable source of energy. This helps to stabilize blood sugar and keep insulin levels healthy. In fact, one study concluded that women who ate 5+ grams of whole grain had 30% less risk of developing diabetes.

Whole spelt's health benefits also allow folks to manage their weight, prevent metabolic syndrome, and lower the risk of heart disease, stroke, cancer, high blood pressure and high cholesterol.

So why do grocery stores sell refined flour?

Industrialized farming removes the bran and germ from wheat in order to increase the shelf life. This removal robs us of essential nutrients, resulting in a global vitamin B deficiencies among other nutritional insufficiencies.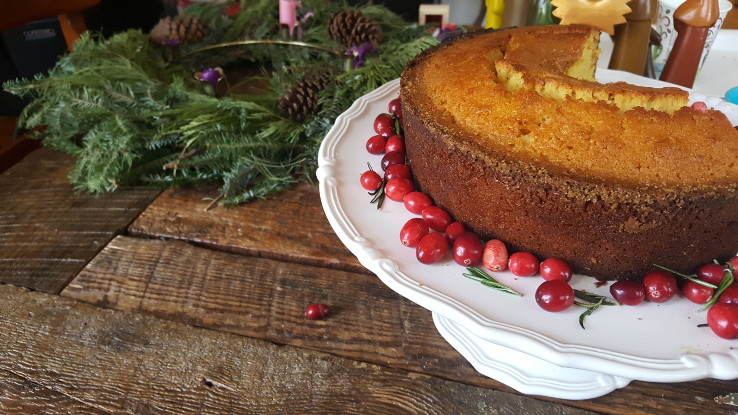 Recipes with Spelt Flour: Orange Pound Cake
Cooking Spelt Flour
From soft and sweet to rustic and savory, spelt delights many.
Roasted spelt berries are a common garnish atop of salads. You'll savor the crunchy, chewy and nutty taste that roasted spelt berries impart in a dish.
Spelt can be used as a 1:1 substitute for wheat flour when baking. When baking with spelt, take care to knead the dough a bit more to improve the dough rising. Xantham gum, tapioca starch, or potato starch can help spelt to rise as well. And, add a bit more oil or dairy when baking to offset the dryness of spelt, if desired.
In addition to its usage in artisan breads, you can now find spelt noodles, bagels, tortillas, pretzels and more!
Spelt is also useful to thicken soups.. The starchiness of spelt becomes a binder, meaning the addition of spelt will make a recipe more creamy.
How to cook spelt
Cook some whole spelt berries for a breakfast porridge or as a substitute for rice. Like rice, you want to be sure to rinse the spelt berries several times before consuming. Then toast the berries in a pot for 3-4 minutes on medium heat, this enhances the flavor. Next, add enough water to cover the berries by several inches. Then toss in any additional flavors you fancy. Spices, vegetables and dried fruits are some common additions.

Bring to a boil, then simmer and cook while covered for about 60 minutes until the spelt is chewy. Add more water if necessary. The longer it's cooked, the more tender the spelt berries become.
Sprouting Spelt
Sprouting spelt adds another possibility. Sprouting a grain allows for the nutrients to become more readily accessible and digestible. Sprout spelt by rinsing the berries and then soaking them overnight. The following morning, drain, rinse and then re-drain. Then, lay the grains out in a glass dish- a pyrex baking dish works well here. Cover with the lid slightly ajar, then place in a dark and cool place, such as your cupboard, for 1-5 days until the spelt berries have tiny tails. During the waiting process, be sure to rinse and drain them at least 2 times a day.

Once sprouted, experiment with tossing them on top of salads, adding to soups, stir fries, etc. You can also dehydrate them in your oven on low heat (150 degrees), until dry and crunchy. After dehydration, you can grind them into a highly nutritious spelt flour to use for baking and cooking.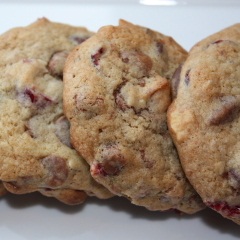 Recipes with Spelt Flour: Rose Petal Cookies with Almonds & Cherries
How to Balance Spelt
Use the following techniques to balance spelt:


Pungent - Spices act as warming digestive that counteract the heaviness of spelt. Examples: Garlic, red pepper flakes, cinnamon

Aromatic - Aromatic herbs helps with upper GI stagnation caused the smooth, gooey qualities of spelt. Example: Herbs to provence spice bouquet, Basil.

Bitter - Bitter taste stimulates peristalsis to cleanse a GI stagnant with bread, and it helps to balance blood sugar levels. Examples: Arugula, Radicchio, Broccoli rabe.

Sour - Counteracts / balances a blood sugar level spike. Examples: Lemon, Vinegar

Some of our favorite
spelt recipes on Joyful Belly
include
Pistachio Pancakes with Cardamom
,
Angel Hair Pasta in Pumpkin Sauce
and
Pumpkin Waffles with Pecan Maple Syrup
. We encourage you to sweeten your life with spelt!
Browse Recipes
Learn about the health benefits of spelt flour for FREE
You'll receive free access to our entire website including healthy recipes, nutritional diet plans, medicinal uses of ingredients, & ayurvedic health tips. Sign in once and you can use our website indefinitely..