How Does This Ayurvedic Food Improve Wellness?

CLINICAL AYURVEDIC REVIEW

Recipes with Tahini: Tahini & Honey Cereal
Smooth, hearty tahini is the creamy butter of blended sesame seeds. This savory and sensual spread invites a Middle Eastern richness to your meals. It can be used to create soft, velvety dips like hummus and babaganoush, sauces to drizzle on top of falafels, or warming dressings to add to your salads. Tahini has a long history, with its use dating back to the 13th century. Its popularity, versatility, and availability, lead it to spread across continents through the Middle East, Asia and Africa. Ayurveda views tahini as a powerful ingredient, used to bestow both mental and physical strength on those who consume it.


Build & Strengthen
Tahini's sweet and heavy qualities mean it is anabolic and building in nature. It can be a useful addition to the diet after a period of exhaustion or depletion to rebuild tissues, provided digestion is strong. High in healthy fats from the oily sesame seed, it nourishes and strengthens nervous, muscle and fat tissue in particular. Tahini also packs an impressive calcium content, supporting the maintenance of bone strength. Its earthy quality and magnesium content help soothe and relax tension in the muscles, allowing you to unwind after a period of stress. Moderate amounts of quality oils, like those of tahini, restore strength and can keep the body looking and feeling young. The unctuous nature combats the dryness of Vata that can accelerate aging, and leaves the skin feeling soft and supple. Many dry Vata individuals seem to literally soak up the oiliness of tahini.
Heavy & Satisfying Nerve Tonic
As well as building and strengthening, the sweet, heaviness of tahini also gives it tonifying properties, encouraging regeneration of tissues. These qualities, teamed with the oiliness of tahini, make it deeply nourishing for the nervous system. It soothes Vata and mildly sedates frayed or frazzled nerves. Thick and dense, tahini brings stability to a frenetic mind, leaving you feeling grounded. Tahini will help slow you down if you are prone to rushing around, juggling too much at once, or feeling anxious. One client remarked how they could feel the heavy, oily nature of of tahini calming their nerves, "It's like an internal
abhyanga
[self massage with oil]... I did feel the grounding, and nourishing effects on my nervous system as well." Tahini's heavy, downward energy can help induce a sense of relaxation and encourage sound sleep after a stressful day. Another client remarked on how the tahini improved their mood, "I felt happy after I ate tahini. I got the sense I was being nourished."
Recipes with Tahini: Tahini Milk and Honey
Warmth that is Bone Deep
When the winds of autumn or the harsh winter chill hits, the heat of tahini will warm you up from the inside out. Its warming quality stokes the fires of metabolism and digestion. "I felt warmth moving down my GI tract... and comfort in my stomach," noted a client. Another observed, "It filled me with a feeling of warmth and contentment - kind of that hearty food feeling." Tahini moistens digestion and prevents dryness in the GI tract during these colder months. A little tahini in the tummy can be as good as a hot water bottle, warming you to your bones. This warmth will be too heating for Pitta types, particularly in the summer months. In excess it can lead to hyperacidity or feelings of anger, frustration and impatience.
How to Use Tahini
Less is more when it comes to tahini. You just need a small amount to enjoy the warm, nutty aroma and warming nature. Don't overwhelm your palate with large servings, and too much can weigh down digestion. When purchasing tahini, you will be presented with two varieties - unhulled and hulled. Unhulled has a stronger, more distinct flavor, one that is not to everyone's taste. This variety is made from the whole sesame seed and retains more vital nutrients, but can be slightly harder to digest. Hulled tahini, while milder and sweeter in taste, is less nutritious as the shell, or husk, of the seed has been removed, and this is where most of the calcium is found, but is easier to digest. Tahini can be used in a variety of sweet and savory
recipes
recipes.
Effect on Digestion
Observe how tahini affects your digestion before making it a pantry staple. A small portion of people experience the dry, pasty, astringency of tahini and find it too difficult to swallow without a drink. One client noticed this difficult quality before even tasting, "When I first opened the jar, the oil had separated and was on top of the solids. It was difficult to mix, which I imagine might mean it is slow and difficult to digest and move through the body." For some clients, the dryness and difficulty to digest made tahini constipating, with one describing "lower abdominal discomfort, gas, bloating and mild constipation" after eating. However, most people experience improved bowel movements due to the heavy and oily qualities of tahini. One Vata client said, "My body tends to crave heavy, smooth, oily food so tahini helped to keep things moving right along, strong and steady."
See
Ayurvedic notes for sesame
.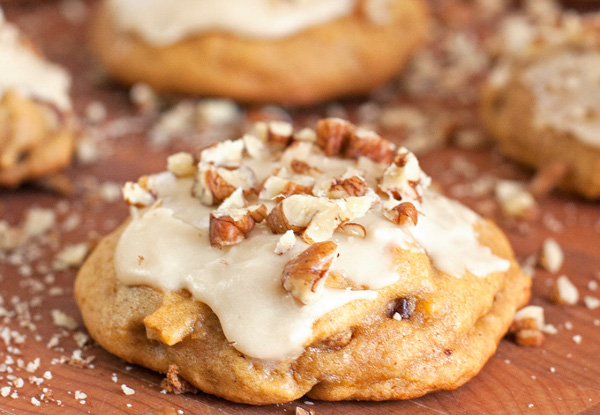 Recipes with Tahini: Maple Cream Walnut Cookies
Buying & Preparation
Sesame comes in several forms:
Learn about the health benefits of tahini for FREE
You'll receive free access to our entire website including healthy recipes, nutritional diet plans, medicinal uses of ingredients, & ayurvedic health tips. Sign in once and you can use our website indefinitely..