How Does This Ayurvedic Food Improve Wellness?
CLINICAL AYURVEDIC REVIEW
Some say it has the "slippery texture of seal skin." Others say it is like, "biting into a sponge." One student says, "It reminds me of a scrambled egg consistency."
The word tofu literally means "bean" in Japanese. Soy is an ancient crop from East Asia that was domesticated as early as 6-7,000 B.C., almost 9,000 years ago!
Tofu is made from ground soybeans. They are ground in water, heated, and curdled with minerals like calcium or magnesium salt. The result is a tofu-like gel. The liquid is then extracted to make the tofu firm. The whole process is similar to paneer or cheese curds. This is how tofu gets its uniquely smooth, moist, and mushy texture.
Tofu is famous because of its popularity in Asia, and among vegetarians who use it for meat replacement.
1lb of soybeans contains as much protein as 2lbs lean meat!
. Tofu is attractively economically as a reasonably priced protein source.
But why curdle the beans? Because curdling denatures the bean proteins, making soy easier to digest. The tofu can also be fermented, making it even easier to digest.
Connoisseurs will notice a slight sweetness and bitterness to tofu. Even though tofu is smooth, one student noted, "The astringency / dryness dried out my mouth. I had a dry, rough sensation after eating the tofu."
Footnote: The information for this article was in part gathered from a 2019 study and survey of 50 students of Ayurveda who experimented with tofu. During the study, students ate tofu for 3 days and journaled the pharmacological effects. This study was sponsored by the
Joyful Belly School of Ayurveda
, and the Mastering Ayurvedic Digestion & Nutrition certification course.
Anti-Aging
Tofu moisturizes the skin and joints. The dull, cooling properties make it useful for hot, fiery or dry skin conditions. Tofu improves elasticity of skin, reducing wrinkles. Its estrogenic properties make it ideal for dryness due to menopause. Vatas should exercise caution: tofu moisturizes skin but it is also a diuretic, which can dry out a sensitive Vata constitution.
Heart Healthy
As tofu improves elasticity of skin, it also improves elasticity of blood vessels. This is useful in
atherosclerosis
, hardening of the arteries, a major cause of heart disease.
Soy protein studies show tofu may be useful to lower cholesterol, especially low density lipoprotein (LDL), the
bad kind
of cholesterol. This may be due to the phytoestrogens in tofu.
Eases Menopause / Supports estrogen
Hoping for a smooth menopause? Tofu is supportive for women who have low estrogen, due to phytoestrogen compounds. In menopause, estrogen levels drop, causing dry skin and low bone density.
Tofu is used in Ayurveda to reduce hot flashes and menopause related symptoms, including dry skin and low bone density. Tofu is also supportive during a period, when estrogen dips. In China, tofu is used to improve the quality and quantity of breastmilk.
There is controversy surrounding the estrogenic effects of tofu, especially regarding breast cancer. Some say soy should be avoided for women with estrogenic lumps in the breast, since soy may aggravate them. Other studies conclude soy is safe, and will not cause breast cancer. Other studies show that women who eat soy products at least once a week have a 48-56% lower risk of breast cancer, due to phytoestrogen content.
Could Ayurveda help avoid some of this controversy? Could one dosha (Kapha) be more sensitive to the negative effects of soy's estrogenic effects, but Vata's benefit? More study is needed.
Cools Pitta / Clears Heat
Tofu's cool quality is known for clearing heat in the digestive tract. One student reports, "I felt my body temperature cool down a little bit while eating tofu."
As it pacifies Pitta, tofu is soothing and relaxing.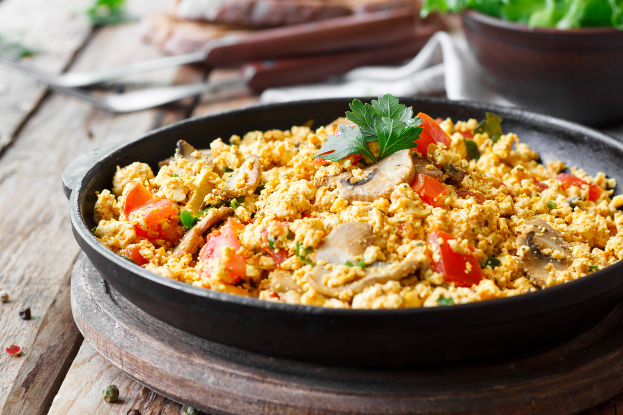 Recipes with Tofu: Tofu Scramble with Kale, Fennel & Tomato
Calming, Heavy on Digestion
Tofu is filling. It has a sweet aftertaste. It is building and nourishing for those who can digest it.
It can even make you feel lethargic, and heavy. In excess, the density and heaviness can aggravate Kapha. One Kapha student notes that, after tofu, she gets "white thick coating and my saliva is richer."
The heavy, lethargic effect of soy on the mind makes soy tamasic.
Those with dry, cold constitutions (
Vata
) might find tofu hard to digest. In these individuals tofu may cause burping, heaviness in the upper gi, gas & bloating.
Students reported tofu was hard to digest, causing them to feel heavy, lethargic or bloated. Here's what they had to say:
"I felt pressure in my stomach and tension. It was heavy in my stomach for about a half hour after consuming."
"It made me feel, dense, heavy, static, and cold. I felt a huge heaviness in my body few minutes after eating tofu,"
"I was nauseous, like I wanted to cough up mucus from my stomach"
"My mind felt heavy, sluggish and foggy."
The solution to Tofu's slow effect on digestion? Eat a smaller quantity to avoid gas & bloating. Or add some spices. Or, follow these rules for an easy to digest beans.
Note: The curdled soy proteins in tofu are easy to digest than raw soybeans (as in edamame) but fermented soy products are even easier.
Clears Toxins by Making You Pee
Tofu is famous in Chinese medicine as a toxin clearing diuretic. Students reported:
"I was urinating more frequently than normal and felt thirsty."
"It's diuretic effect made my urine more cloudy or bubbly."
"I did notice a few more bubbles about 2 hours after I eat the tofu."
Why the Bubbles? Bubbles are a sign of protein in the urine and
protein loss
from the blood.. Bubbly urine indicates a recent high protein meal, or that the kidneys are irritated to the point where they are leaking protein.
Drying Quality Makes Stools Firm
The astringent, cold, drying quality of tofu are signs of air element. These qualities generally hardened stools for Vata students. Here's what they had to say:
I experienced, "dryness with my bowel movements."
"My stool was a bit more compact and cracked than usual."
My stool was "harder and came out broken in two." It was, "dense with large cracks." Note large cracks are a sign of dryness.
For Pitta and Kapha students, the high fiber content aided stool bulk and helped elimination for many. The cool quality of tofu is especially useful for hot, Pitta type diarrhea.
Contraindications
Don't be afraid! It doesn't taste like a whole food but it is. However, tofu is highly processed and 90% of the soy crop is GMO. So get organic.

Avoid tofu if you have high estrogen levels, or get lumps in the breast during menstruation. Avoid tofu if it dries you out, or causes gas or bloating. If tofu makes you feel cloudy or sluggish, perhaps it is not right for you.

Like many plants, Soy has anti-nutrients the inhibit absorption of nutrients to protect it from plants and insects. These anti-nutrients inhibit uptake of minerals. Fermenting soy can reduce these anti-nutrients, and make soy easier to digest, reducing many of the negative qualities of soy.

Many people are allergic to soy. If you're allergic be careful: Soy and soy derivatives appear in many products.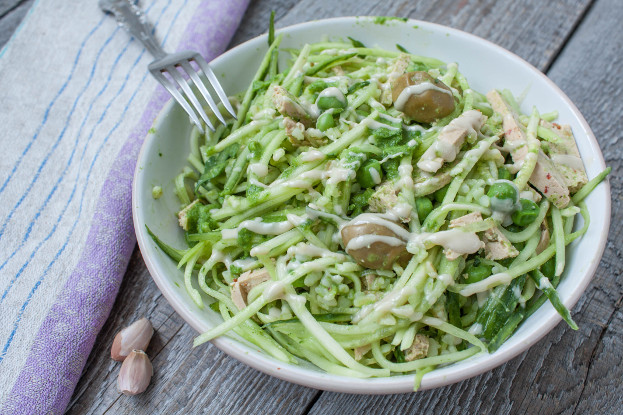 Recipes with Tofu: Cold Sesame Cucumber & Tofu Noodle Bowl
Tofu and Dosha Summary
To summarize, tofu is a satisfying protein source that clears heat, detoxifies, eases urination, firms up stools, and moisturizes the lungs and skin.
The estrogenic compounds in tofu pacify Vata but can aggravate Kapha. However, the diuretic compounds aggrvate and dry out Vata, while pacifying Kapha. Tofu's cool quality pacifies Pitta.
Although tofu is high in nutrients it is low in calories. However, we recommend caution in use for weight loss because tofu is estrogenic. Estrogen causes weight gain.
All in all, tofu is fairly mild to all body types. So try some, and see if it is a good fit.
About Tofu
Tofu was invented in China over 2000 years ago.
Buying & Preparation
Tofu is made by curdling soy milk and pressing the curds into blocks. Tofu texture is rated by the amount of water content, from watery (soft / silken tofu) to dry, (extra firm tofu).

90% of the soy crop is genetically modified (GMO), making good quality tofu hard to find. It's also highly processed. This is why you should eat organic tofu, only.

Tofu may be fermented, sweetened, or flavored in some instances.
Cooking Tofu
Tofu can mimic many other foods, and easily takes on the overall taste of a dish. Its soft yet sturdy texture and neutral taste adapt well. Tofu is flexible, and can be used in a variety of cooking styles and flavors. It is popular in stir fries, marinades, soups. Among beans, tofu is especially easy to digest, makes it popular as a meat substitute for vegetarians.
One student notes, "If erasers where white and edible, this is probably what it would taste like!" Tofu has a slight aftertaste of raw beans and sweetness.
The following tips show you how to reduce one or more of the effects of Tofu:
Dryness - Balance dryness with salty and sour tastes, as in salt, soy sauce, and lemon.
Astringency - Balance the astringency with oils, such as sesame oil.
Cold, Dull - Balance the cold quality with spices, such as turmeric, ginger, cayenne.
Heaviness - Balance the heaviness with aromatic herbs like basil, mint.
Tofu may be chopped and fried, baked, or tossed into a soup.
Browse Recipes
Learn about the health benefits of tofu for FREE
You'll receive free access to our entire website including healthy recipes, nutritional diet plans, medicinal uses of ingredients, & ayurvedic health tips. Sign in once and you can use our website indefinitely..