Save




17 ratings, 1714 likes
Customer Reviews
4.71 out of 5 stars
Sign in to review this recipe
"Could you recommend something for my dependency on strong coffee to substitute?"
- Dhyani,
Brighton





How to Make Lemon & Spice Weight Loss Tea
SERVINGS: 1
PREP TIME: 5 MINUTES
COOK TIME: 0 MINUTES
INGREDIENTS
| | |
| --- | --- |
| 2 pinch | |
| 1 pinch | |
| 1 tsp | |
| 1/4 whole | |
| 1 c | |
PREPARATION OF THIS HEALTHY RECIPE
Squeeze lemon and add remaining ingredients into hot water and stir. You may use any type of vinegar although we prefer apple cider vinegar for taste. 10 drops of vinegar is perfect for this recipe. A 1/16 tsp of cayenne is equivalent to "a pinch".
Usage
Drink in the morning upon waking, a 1/2 hr before meals, or sip slowly after meals. You may enjoy this tea 1-2x a day or as directed by your practitioner.
How Does This Ayurvedic Recipe Improve Wellness?
CLINICAL AYURVEDIC REVIEW
Lemon & Spice Weight Loss Tea combines peppy cayenne and zesty lemon for a tea that delivers gusto and verve. One sip of piping hot Lemon & Spice Tea will brighten your cloudy morning mind and warm you up from head to toe. Sour lemon and apple cider vinegar awaken your senses. Brightly pungent cayenne pepper will warm you to your core. Add a little honey for sweetness that also scrapes fat and toxins, and this tea becomes a metabolic boost that makes you feel great.
This is a classic, vivacious Ayurvedic blend to boost fat digestion and metabolism. After drinking Lemon & Spice tea, a warm sensation deep in your belly will confirm these effects.
Strong Metabolism for Weight Loss
Enthusiasm and inspiration are the effects of stimulating vinegar and spicy cayenne. They add an intense metabolic spark that improves energy, restoring your "get-up-and-go" that youve been missing. Together with warm water, they strongly stimulate digestion and clear mucus accumulations from the stomach. This has the effect of improving circulation and revving up metabolism, effectively clearing heavy fats from the blood as well. Honey is the only approved sweetener for weight loss. The secret behind honey lies in pre-digestion by bees, making honey the only 'warming' sweetener that actually improves metabolism. It's diuretic nature reduces water weight as well.
Brighten Up Your Groggy Mornings
When celebrations with heavy foods and desserts leave you groggy and tired the next morning, Lemon & Spice adds a sparkle to the eye and an enthusiastic boost. A heavy, late night meal sits in your digestive tract throughout the night until the next morning, stagnant and undigested. When this happens you may wake up to find your stomach feels like a throbbing brick weighing you down, making you feel tired and groggy. This is actually not far from the truth. Lemon & Spice Tea re-awakens your stomach and directly counteracts food coma and groggy mornings.
Bile & Fat Reduction
Vinegar and lemon impart a strong sour taste, encouraging the free flow of bile from your liver and gall bladder to your gut. Bile is nature's fat digester. Its presence in your gut helps digest high-fat foods. When these foods linger in the stomach and small intestine you feel heavy and sluggish. Drinking Lemon & Spice tea restores energy and vitality by helping the body digest each meal with ease.
Your bodies production of oily bile pulls fat out of your bloodstream. Every time you stimulate bile production, you siphon fats and toxins from the blood. When you don't eat enough green vegetables, bile tends to build up and thicken in the liver and gall bladder, forming gallstones. Lemon & Spice Weight Loss Tea cleanses the liver and gall bladder by flushing backed-up bile, helping you avoid the discomfort of gallstones and lose weight.
How to Lose Weight in Ayurveda
WHAT IS LEMON & SPICE WEIGHT LOSS TEA?
Lemon & Spice Weight Loss Tea combines peppy cayenne and zesty lemon with gusto and verve. When celebrations with heavy foods and desserts leave you groggy and tired the next morning, Lemon & Spice addes a sparkle to the eye and an enthusiastic boost.
AYURVEDA'S GUIDE TO VITALITY & WHOLESOME NOURISHMENT
Your Ayurvedic diet is tailored to your individual body and your specific imbalances. With an Ayurvedic diet you feel joy and satisfaction because what you are eating truly nourishes and balances you. Disease results from diets and lifestyles that are incompatible with your nature. By eating a personalized diet matched to your body, you experience optimal health. See How it Works.
Is Lemon & Spice Weight Loss Tea Good for My Ayurvedic Diet?
Find out by taking this
free, easy quiz
. You'll learn your body type, and whether 'Lemon & Spice Weight Loss Tea' is a good fit. Complete the basic quiz in 1 minute, or go deeper with additional quizzes at your own leisure to learn more about your body.
See a complete list of
all biocharacteristics
.
INCREASES

Increases These Biocharacteristics (Gunas)

Functional Ayurveda helps you assess imbalances through 20 main

biocharacteristics (gunas)

. Aggravating these characteristics weakens your body and causes imbalance. By knowing which characteristics are habitually imbalanced in your body, you will be able to identify and correct imbalances before you get sick. Every characteristic has an opposite which balances it (i.e. hot balances cold). You restore balance by favoring diet and lifestyle choices that increase the opposite characteristic.

DOSHAS

The Three Doshas / Body Types

According to the

biocharacteristic theory of medicine

, people tend to get sick, over and over again, due to habitual causes and imbalances that are unique to the person. Your body type summarizes this tendency, showing you the 'type' of conditions and imbalances that frequently challenge your health & wellness. Using body type, you can also identify remedies likely to improve your strength and resiliency. Your body type identifies physical and mental characteristics as well as your personal strengths and weaknesses. The calculation of your body type is based on your medical history.

The 3 functional body types (doshas), are Catabolic (Vata), Metabolic (Pitta), and Anabolic (Kapha). Catabolic individuals tend to break down body mass into energy. They are easily stimulated, hyperactive, underweight and dry. Metabolic individuals tend to burn or use energy. They tend to be rosy-cheeked, easily irritated, focused, driven, and easily inflamed. Anabolic individuals tend to store energy as body mass. If they store too much energy, they could gain weight easily and have congestion. Anabolic people tend to be stable and grounded.

Medicinal Benefits, Uses & Herbal Actions of Lemon & Spice Weight Loss Tea

Experiences are Personal

Experiences vary according to the person and constitution. Individual results may vary. The list of herbal-actions below has not be approved by the FDA and should not be used to treat a medical condition.
Foods with a Similar Nature to Lemon & Spice Weight Loss Tea
Herb Supplements with a Similar Nature to Lemon & Spice Weight Loss Tea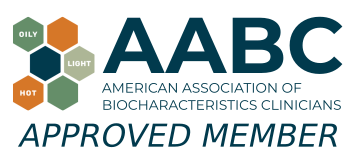 Joyful Belly is a recognized school of biocharacteristics medicine.
Eat Well for Life With Ayurveda: Balance Your Dosha
Love our recipes? Discover how to balance your diet for only $35 with this popular short course. GET THE ECOURSE
About the Author
John Immel, the founder of Joyful Belly, teaches people how to have a healthy diet and lifestyle with
Ayurveda biocharacteristics
. His approach to Ayurveda is clinical, yet exudes an ease which many find enjoyable and insightful. John also directs Joyful Belly's
School of Ayurveda
, offering professional clinical training in Ayurveda for over 15 years.
John's interest in Ayurveda and specialization in digestive tract pathology was inspired by a complex digestive disorder acquired from years of international travel, as well as public service work in South Asia. John's commitment to the detailed study of digestive disorders reflects his zeal to get down to the roots of the problem. His hope and belief in the capacity of each & every client to improve their quality of life is nothing short of a personal passion. John's creativity in the kitchen and delight in cooking for others comes from his family oriented upbringing. In addition to his certification in Ayurveda, John holds a bachelor's degree in mathematics from Harvard University.
John enjoys sharing Ayurveda within the context of his Catholic roots, and finds Ayurveda gives him an opportunity to participate in the healing mission of the Church. Jesus expressed God's love by feeding and healing the sick. That kindness is the fundamental ministry of Ayurveda as well. Outside of work, John enjoys spending time with his wife and 6 kids, and pursuing his love of theology, philosophy, and language.
Comments & Impressions of 'Lemon & Spice Weight Loss Tea'
Do you like 'lemon & spice weight loss tea'? Why or why not? What makes it unique? Is there something you'd like to know about 'lemon & spice weight loss tea'?
Sign in to review this recipe
Truth is. . .yes. Ayurveda recommends teas and broths instead of straight water. Water is cooling and feels heavy for many Kapha people.
I am Pitta / Vata, with imbalanced Vata,why is honey is not recommended? Thank you!
Honey heats up metabolism, which aggravates Pitta. It is also a drying diuretic, making it mildly unsuitable for Vata.
There is very little difference between lemon and lime juice in this recipe. On it's own, lemon is slightly more irritating to a sensitive digestive tract.
What does a slash across P mean? If I am a Pitta how do I adjust this recipe.
A slash means this recipe is contra-indicated for high Pitta - as with most recipes that increase metabolism. If Pitta and Kapha are aggravated, it is best to stick with bitter greens to boost fat metabolism. Great question.
As a student to Ayurvedic medicine i know honey should not be heated since it becomes poison while heated.
Dear Hila, Honey may be heated, but Ayurveda recommends against cooking it. The maximum temperature is somewhat vague in the ancient texts. Curiously, Chinese medicine recommends cooking honey in a number of herb formulas. So this is a gray area. -John
Dear Susan, Trying to lose weight aggravates Vata and reduces Kapha. If your Vata is aggravated in the mind only, honey remains a great choice. Maple syrup aggravates Kapha and provokes weight gain.
I have been drinking a similar tea every day with fresh ginger root instead of vinegar. What is the benefit of the vinegar and should I replace the ginger with it or add it to my current recipe? Is it safe to drink this tea daily, especially in the fall and winter? Thanks!
Vinegar is a key ingredient of this recipe - unlike ginger, vinegar stimulates and cleanses the liver and gall bladder, releasing bile. Ginger stimulates metabolism and the heart, but does not directly address fat metabolism. Most people can drink this tea daily, but it does depend on constitution. Thanks for asking!
Could you recommend something for my dependency on strong coffee to substitute?
Yes, you can use ginger and apple cider vinegar.
I made the lime-ginger salt mixture to put on my food. I put it in a baby food jar on the counter? How long does it last and what is the best way to store fresh ginger?
If your gallbladder is removed is it ok to flush bile? I know that sounds crazy but I do have severe pain where gallbladder was. A stabbing feeling but the doctors say there is nothing there...
Perhaps stones in the biliary ducts? Whether or not to flush bile after gall bladder removal depends on the person. Some people are bile deficient, others bile excess after gall bladder removal. Constipation is often a sign of insufficiency, soft stools may indicate excess.
Rock sugar is essentially refined sugar - it will increase weight gain instead of helping with weight loss. Thanks for asking. -John
Is raw honey better to use than regular?
Raw honey is usually more pure and has a great taste.
Sure.....substitute cumin with cayenne. Feel free to experiment and let us know if you develop something tasty!
Cathy - thank you! Two pinches is about a 1/8 a teaspoon. Hope that helps! :)
Maple syrup would be the best option for vegans.
very enlightening re: water being heavy...Now i know why i struggle to drink it. more appealing with lemon etc xx Thank you x
I find this drink beneficial in the morning for reducing mucus. The use of Cayenne is new to me and I find that sipping this drink occasionally during the day is helping me adjust to the heat.