Are you prone to a problem with 'Dry Mouth / Tongue'? Find your imbalances and create a diet for your Digestion by taking the free digestion quiz:
TAKE THE DIGESTION QUIZ
AYURVEDA PERSPECTIVE ON DRY MOUTH / TONGUE
Xerostomia, or dry mouth is a subjective feeling that the mouth is too dry. The terms comes from the Greek: Xeros = dry and stoma = mouth. This condition is commonly called pasty mouth or cotton mouth and effects 20% of the population. Lips may stick together, be chapped or cracked. A pasty mouth makes it difficult to talk as the tongue sticks to the roof of the mouth. It may be difficult to swallow or taste food.
Since a dry mouth is also indication that other digestive glands are also dry, Ayurveda recommends that you maintain a moist, juicy mouth at all times. Saliva is the most important digestive aid. Thorough chewing ensures optimal mixing of food with saliva. Saliva also contains enzymes, antiseptics, and antibodies that digest food between teeth and kill bacteria that cause tooth decay. Inadequate saliva can lead to increased cavities. At night, production of saliva drops. Always brush your teeth upon waking to reduce buildup of bacteria in the night.
Xerostemia is prevalent among the elderly. Although salivary gland output drops only modestly as you age, your sense of thirst weakens and this could lead to inadequate fluid intake. The elderly also take more medications. Many pharmaceuticals can lead to dry mouth.
Causes
Salivary glands normally produce .75 - 1.5 liters of fluid per day. A dry mouth can be a sign of inadequate hydration, one of the earliest signs of high Vata. Although drinking too little fluids can be a leading cause of dehydration, do not overlook sweating, loose stools, excess urination, and electrolyte imbalance as causes of dehydration. When the blood is toxic or after you have eaten a diuretic food, the kidneys will flush excess water out of the body (via the urine) along with toxins. This, along with various kidney deficiencies, can make it difficult for some individuals to stay hydrated.
Kapha type dry mouth may be a sign of thick fluids and sluggish circulation, making saliva thick and tacky. It can also be a sign of high blood sugar (especially in diabetics) or sodium levels. Salt and sugar, because of their effects on osmotic pressure, create strong thirst.
Pitta-Kapha type dry mouth occurs in pear shaped individuals, where fluids collect in the lower extremities, and the top remains dry.
Other common causes include mouth breathing especially due to a stuffed nose. Although saliva naturally decreases at night, if your mouth feels parched upon waking, you might be mouth breathing while sleeping. Stress and fear can make the mouth pasty. Saliva stimulated by stress is also thicker than saliva stimulated by food. Alcohol, diuretics, and astringents, especially mouthwash, can create a dry mouth. Dry mouth is also related to dry eyes, the inability to cry, dry skin, and a hoarse voice.
Remedies for Vata Type Dry Mouth
Vata should address xerostemia at the root by
rebuilds fluids
and
electrolytes
. Drink water from a 32oz ball jar so you can track water consumption through the day. Set alarms on your hpone if youneed reminders to drink, so that a habit may be established. If water feels heavy in your stomach, spices and salt in your water can help you drink a larger quanity.
Once hydrated, Vata may employ sialogogues to directly increase production of saliva. Foods with sour, salty, sweet, bitter, or umami taste stimulate saliva. Ginger is a stimulating sialogogue. A slice of fresh ginger stimulates saliva. Or, enjoy a ginger tea with a squeeze of lime, pinch of salt, and a pinch of sugar.
Saliva is also stimulated by the sight, smell and taste of desirable food. Desire itself stimulates saliva. Chewing stimulates saliva, as well as palpation of the salivary glands. Try chewing gum (sugar-free) to keep your mouth moist.
Sours Make Your Mouth Water
When you sip something sour, your mouth starts to water. Sour taste stimulates saliva, especially foods that are high in ascorbic acid (vitamin C) and malic acid. This why, when your body naturally dries out in autumn, you may crave sour foods like apples and
cranberries
You can experiment with a lime and salt digestive appetizer before meals to encourage your body to get the digestive juices flowing. This makes digestion more smooth and efficient, saving you from uncomfortable gas and bloating. Having a glass of warm water with lemon in the morning gives a similar effect. Note: Exercise caution with cold sours in the fall such as blueberries. Sour taste opens pores,causing loss of heat. Therefore, if you use sours to stimulate hydration, dress warmly to prevent heat loss through the skin. A lemon, cinnamon tea however, is warming for this time of year.
Salty, Sweet Foods Help Retain Water
An extra pinch of salt, and a bit of sugar, can help your body retain moisture by reducing the osmotic pressure of blood plasma in the kidneys.
Oily & Demulcent Foods Coat Dry Tissues
Oatmeal, groundflax, and chia seeds have a demulcent, slimy quality that will coat dry tissues, and keep your mouth feeling moist. The slimy quality of these foods also nourishes the mucosal lining of your stomach, protecting it from dryness. Oily foods can also coat tissues. Massage with oils (abhyanga) prevents loss of moisture through the skin.
Hydrating Teas
Herbal teas with the above qualities (sour, demulcent, salty, or oily) can also help your body stay hydrated. A few days a week, have licorice tea or marshmallow tea. Licorice and marshmallow have a demulcent, slimy quality that will make you feel more hydrated and nourished than plain water. They will leave your mouth feeling gently salivated and refreshed, and will keep your mind and body calm.
Remedies for Kapha & Pitta Type Dry Mouth
For
Kapha Type
Dry Mouth, fresh ginger tea with honey also makes you feel less thirsty, encouraging proper digestion and keeping you warm. Turmeric can help thin fluids, invigorate the blood, and reduce blood sugar levels. Bitters (such as neem) stimulate saliva but also address the root cause of Kapha dry mouth.
For Pitta-Kapha Type Dry Mouth, eliminate the underlying fungal infection by reducing simple carbs and sugars, and with anti-fungal herbs or ointments.
Images of Dry Mouth / Tongue
Large
WHAT HAS ALREADY HELPED YOU HEAL DRY MOUTH / TONGUE?
Improve the accuracy of your recommendations by letting us know what is working.
DIET REMEDIES FOR 'DRY MOUTH / TONGUE'
HERBS & SUPPLEMENTS FOR 'DRY MOUTH / TONGUE'
Please check with your medical doctor before making any changes to your health & wellness routine, and for the proper use of these products.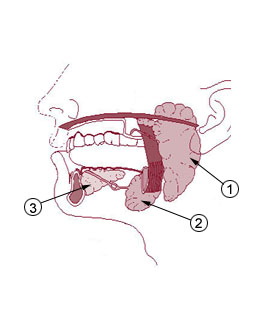 MORE DIGESTION TIPS
DISCLAIMER: The pathogenesis of each person's condition is unique, and so the diet must be fit to the individual and the unique root causes of the condition in your body. The information on this page is for educational purposes only and should not be used to treat a medical condition. It is not a substitute for medical care. Please check with your doctor before making any changes to your health and wellness routine.
FAVOR DIETS, LIFESTYLES & HERBS WITH THESE MEDICINAL EFFECTS
Everything you eat has an effect on your body, which Ayurveda categorizes in a simple and easy way, using
biocharacteristics (gunas)
. Biocharacteristics are qualities (like cold and hot) that describe the effect a food or herb has on your body. Cooling foods like cucumber, decrease metabolism. Heating foods like chili pepper, stimulate your body and increase metabolism. For 'Dry Mouth / Tongue', you should select foods with the following biocharacteristics. Individual results will vary, based on your body type and the root cause of your imbalance.
SALTY

ABOUT SALTY BIOCHARACTERISTIC

Salty refers to anything with salt, or high mineral content.

Status Unknown

Take

these quizzes

to find out if you have an imbalance of 'Salty' taste

SOUR

ABOUT SOUR BIOCHARACTERISTIC

Sour refers to anything fermented or acidic.

Status Unknown

Take

these quizzes

to find out if you have an imbalance of 'Sour' taste
To learn more about the symbols above, click on them.
Quenches Thirst
QUENCHES-THIRST
An herb or substance that relieves thirst.
,
Sialogogue
SIALOGOGUE
A sialogogue increases saliva. Sour foods are often great sialogogues, and increase output of all exocrine glands. Salty taste is very moistening as well. Bitter, pungent and sweettastes also increase salivary output but to a lesser degree. Astringents.
Demulcent
DEMULCENT
Herbs that coat or form a soothing film over a mucous membrane, relieving minor pain and inflammation of the membrane.
Rebuild Electrolytes
REBUILD-ELECTROLYTES
Substances that increase your electrolyte balance. Electrolytes help you retain water, keep your palate moist, and truly quench your thirst.
,
Rebuilds Fluids
REBUILDS-FLUIDS
Herbs or substances that create moisture in the body and increase fluids.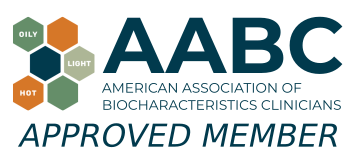 Joyful Belly is a recognized school of
biocharacteristics medicine
.
ADDRESS ISSUES IN STAGE OF DISEASE 1
DRY MOUTH / TONGUE IS IN STAGE OF DISEASE 1 -
AFFECTING DIGESTION
If you have symptoms in this category, your body is sending you a warning sign. Since digestion is so metabolically intensive and sensitive to stress and emotions, the earliest warning signs of imbalance usually appear in the digestive tract first. You may have gas and bloating, for example, or acid reflux. Ayurveda recommends paying careful, close attention to warning signs. They indicate that an imbalance is starting to accumulate. Correct these warning signs before they accumulate further and weaken your body's resistance. This is usually accomplished by removing diet and lifestyle habits that aggravate your imbalanced doshas and biocharacteristics.
GET MY FREE AYURVEDA BODY MAP
AVOID DIETS, LIFESTYLES & HERBS THAT AGGRAVATE THESE EFFECTS
According to Ayurveda, one or more of the following
doshas
and
biocharacteristics
may aggravate 'Dry Mouth / Tongue'. If you have an excess of one of these doshas or biocharacteristics below, Ayurveda recommends reducing foods and lifestyle habits that aggravate them. Click on the biocharacteristic to learn what foods and
lifestyle habits
should be reduced.

Symptoms Tell A Story
The first step to healing is learning patterns from your symptoms. Symptoms are clues that reveal underlying imbalances. Symptoms show you where your body is weakened. Ultimately, all disease has a root in tissues too weak to defend itself. Ayurveda describes these patterns of weakness using doshas & biocharacteristics. If you notice a biocharacteristic or dosha appears next to many of your symptoms, it helps you establish a pattern that may be systemic.
VATA

FIND OUT

Status Unknown

Take

these quizzes

to find out if you have an imbalance of 'Vata' dosha.

DIFFICULT

ABOUT DIFFICULT BIOCHARACTERISTIC

Difficult refers to anything that is difficult to digest, or takes a long time to digest.

FIND OUT

Status Unknown

Take

these quizzes

to find out if you need to decrease Difficult to digest foods.

DRY

ABOUT DRY BIOCHARACTERISTIC

Dry is identified by lack of moisture, lack of fat, or anything that causes diuresis.

FIND OUT

Status Unknown

Take

these quizzes

to find out if you have an imbalance of 'Dry' guna.

GOOEY

ABOUT GOOEY BIOCHARACTERISTIC

Gooey is identified by anything gelatinous (such as oatmeal), or by mucus congestion.

FIND OUT

Status Unknown

Take

these quizzes

to find out if you have an imbalance of 'Gooey' guna.

LIQUEFIED

ABOUT LIQUEFIED BIOCHARACTERISTIC

Substances that thin fluids (lower viscosity of blood plasma). These may include blood thinners or mucolytic herbs.

FIND OUT

Status Unknown

Take

these quizzes

to find out if you have an imbalance of 'Liquefied' guna.

TOXIC

ABOUT TOXIC BIOCHARACTERISTIC

A substance that causes toxicity in the body, or that harms the body.

FIND OUT

Status Unknown

Take

these quizzes

to find out if you have an imbalance of 'Toxic' guna.

ASTRINGENT

ABOUT ASTRINGENT BIOCHARACTERISTIC

Astringency is characterized by constriction, drawing together, or drying.

FIND OUT

Status Unknown

Take

these quizzes

to find out if you have an imbalance of 'Astringent' taste.

SWEET

ABOUT SWEET BIOCHARACTERISTIC

Sweet refers to anything builds tissue, including macronutrients such as carbohydrates, proteins and fats.

FIND OUT

Status Unknown

Take

these quizzes

to find out if you have an imbalance of 'Sweet' taste.
To learn more about the symbols above, click on them.
RELATED SYMPTOMS & HABITS
The following symptoms & habits may be related to 'Dry Mouth / Tongue'. See your
quiz results
for a computerized assessment of your body type. Please click on the symptoms below to learn more about them.
Biocharacteristics of 11,458 People Reporting Dry Mouth / Tongue
On average the
biocharacteristics
of people reporting Dry Mouth / Tongue were
more
aggravated than
54%
of other symptoms. From the
11,458
people who reported Dry Mouth / Tongue in this research study of 74,671 individuals, average deviation in biocharacteristic levels were the following:
Risk Factors of Dry Mouth / Tongue
Below you will see general risk factors as well as the greatest risk factors, i.e. those who were also more likely to report Dry Mouth / Tongue. Overall,
28.40% of people surveyed
in this research study reported Dry Mouth / Tongue.
Review These Common Risk Factors
Show All
Complications of Those Reporting Dry Mouth / Tongue
In this research study, people who report Dry Mouth / Tongue were likely to report the following:
WHAT'S NEXT?
DISCOVER YOUR BODY WITH YOUR FREE INDIVIDUALIZED BODY MAP
Find ideal foods, herbs and lifestyle tips. See your imbalances, and locate intervention points. Your body map contains a complete analysis of your Ayurvedic imbalances, organ by organ. Give your chart to your functional medical doctor or any alternative health practitioner.
HOW AYURVEDA WORKS
ARE YOU WONDERING HOW AYURVEDA CAN HELP YOU?
WHY IS AYURVEDA THE RIGHT SOLUTION?
Ayurveda strengthens the body while opposing disorders. It takes a holistic, systemic approach that looks at the whole body. Ayurveda shows how to interpret signs and symptoms of imbalance, and how to address them using diet, lifestyle adjustments, and herbs. It shows a person how to optimize their health on a continual basis. You can't take the doctor home with you, but you can take Ayurveda home with you. Ayurveda is the most advanced and easy to use home system for self healing.
HOW DOES AYURVEDA WORK?
Ayurveda starts by identifying your
body type
, which identifies certain tendencies in your body to get sick (as well as identifying your strengths). It uses body type to determine the likely root causes of your disorders. Next, Ayurveda analyzes the nature of your disorder. It fits all your signs and symptoms into a pattern, expressed as a combination of
biocharaceristics (gunas)
. For example, you may have a heat disorder, a cold disorder, or an oily disorder, etc. This simple categorical approach shows you how to correct systemic imbalances and strengthen your body as a whole.
On Joyful Belly, we've created an extensive categorization of food so you can easily match food to your imbalanced biocharacteristics. By eating an optimal diet that balances your biocharacteristics, your whole body is strengthened and the conditions that created the disorder are removed. Once the root causes of the disease are removed, the disease lessens in strength or disappears altogether. Additional remedies - such as herbs and lifestyle practices - focused on the specific disorder, can greatly enhance your healing.
GET STARTED
To get started on your Ayurvedic journey, we first recommend that your find your body type by taking our free quiz. In Ayurveda, every solution is based on your unique body type, so by taking this quiz, you'll get the best results.
FIND YOUR BODY TYPE
5 WAYS TO HEAL YOUR BODY
WITH AYURVEDA - FREE REPORT!
New to Ayurveda? Not sure how Ayurveda can help you? This free report shows you 5 simple ways you can heal your body with Ayurveda. It shows you simple, practical ways manage your health.
About the Author
John Immel, the founder of Joyful Belly, teaches people how to have a healthy diet and lifestyle with
Ayurveda biocharacteristics
. His approach to Ayurveda is clinical, yet exudes an ease which many find enjoyable and insightful. John also directs Joyful Belly's
School of Ayurveda
, offering professional clinical training in Ayurveda for over 15 years.
John's interest in Ayurveda and specialization in digestive tract pathology was inspired by a complex digestive disorder acquired from years of international travel, as well as public service work in South Asia. John's commitment to the detailed study of digestive disorders reflects his zeal to get down to the roots of the problem. His hope and belief in the capacity of each & every client to improve their quality of life is nothing short of a personal passion. John's creativity in the kitchen and delight in cooking for others comes from his family oriented upbringing. In addition to his certification in Ayurveda, John holds a bachelor's degree in mathematics from Harvard University.
John enjoys sharing Ayurveda within the context of his Catholic roots, and finds Ayurveda gives him an opportunity to participate in the healing mission of the Church. Jesus expressed God's love by feeding and healing the sick. That kindness is the fundamental ministry of Ayurveda as well. Outside of work, John enjoys spending time with his wife and 6 kids, and pursuing his love of theology, philosophy, and language.
Comments & Personal Experiences
How does 'dry mouth / tongue' affect your quality of life? What aggravates it? What has helped you? Is there something you'd like to know about 'dry mouth / tongue'?





(5.00 out of 5 stars) 1 rating, 37 likes
Sign in to review this symptom
My mother has burning in her mouth and it has escalated to her feet. It has been diagnosed as thrush. She found that a multiple vitamin helped somewhat. She believes it is due to sugar. She likes icecream a lot! She avoids the obvious hot foods i.e., ginger, chilli's etc. She takes coumadin and high blood pressure meds. I thinks she should stop sugar completely with the acception of fruits. What fruits are hot and cold? Have you heard of burning mouth syndfrom?
-
Sally, St. louis, MO





05-29-13
(
Reply
)
My mother has burning in her mouth and it has escalated to her feet. It has been diagnosed as thrush. She found that a multiple vitamin helped somewhat. She believes it is due to sugar. She likes icecream a lot! She avoids the obvious hot foods i.e., ginger, chilli's etc. She takes coumadin and high blood pressure meds. I thinks she should stop sugar completely with the acception of fruits. What fruits are hot and cold? Have you heard of burning mouth syndfrom?
-
Sally, St. louis, MO





05-29-13
(
Reply
)