Are you prone to a problem with 'Epilepsy'?
Find your imbalances and create a diet for your Mind Stress Sleep by taking the free mind stress sleep quiz.
TAKE THE MIND STRESS SLEEP QUIZ
Ayurvedically, a seizure may represent a kind of nervous system colic. The nervous system fires asynchronously, leading to twitching. The recovery stage resembles a reboot of the nervous system. This "reboot" takes time as all systems resynchronize. Awareness starts as a dot then expands slowly to include all systems.
Epilepsy is called Apasmara (Apa = loss, smara = memory, intelligence and/or consciousness) in Ayurveda, and classified as a vata disorder. In Chinese medicine, a seizure is related to heat in the heart.
There are many types of seizures. Juvenile Myoclonic Epilepsy (JME) is due to chemical malfunction of nervous system, suspected to be systemic and genetic. In one type, a genetic defect causes immature development of the pores in the cell membrane of the nerve axon. As a result, the cell is unable to keep sodium ions from permeating the membrane, disrupting the function of the potassium channel. This makes the nerve fire more often.
Flashing lights may trigger a seizure due to an effect called "cortical driving."
Acute Seizure
If you see a person having a seizure, call 911 immediately. During the seizure keep head forward, lay the person on their side so they don't aspirate saliva or vomit into the lungs. Do not attempt CPR or heimlich (but check breathing to make sure they are not choking). Do not stick anything in the person's mouth.
If the seizure lasts for a longtime (15+ minutes) it can cause hypoxia if the person is unable to breathe well. At the emergency room, doctors may order various tests including an EKG, cat scan, blood test, urine test, and a neurological exam. These tests rule out causative factors. Then, they may recommend an appointment with a neurologist for further testing (EEG, MRI).
If no causative factors are found, it may be epilepsy. Epilepsy is confirmed by two or more episodes of seizures. The probability of a second seizure within one year is 25%, and 45% within 3 years. Unprovoked seizures are most common in infants and at puberty. Infection b y tapeworm (Neurocystericercosis) is the most common cause of epilepsy in many tropical countries as well as some isolated areas of the U.S.
Nonpharmcological treatment
Nonpharmacological treatment of epilepsy includes surgery, vagal nerve stimulation, ketogenic diet, and other alternative/complementary therapies, e.g., yoga, Ayurveda, electroencephalography (EEG) biofeedback technique, aerobic exercise, music therapy, transcranial magnetic stimulation, acupuncture, and herbal remedies (traditional Chinese medicine). (source:
Nonpharmacological treatment of epilepsy
)
Ayurvedic Approach
Please review and research the ideas below to determine their suitability for your health and wellness. Please contact your doctor before making any changes to your health and wellness.
Avoid Triggers
Keep a journal to record potential triggers. Note time of year, time of day, what the person was doing, recent foods, and where the seizure occurred. Some common triggers include lack of sleep, stress, mirrors, and flashes of light.
Maintain a Relaxed, Balanced & Resilient Nervous System
Research the following techniques below to support the nervous system as much as possible, which may reduce the number and length of seizures.
Monitor Your Nervous System
Notice in general when your nervous system is tense, or "off". Then take simple measures to relax and/or restore balance generally. Set a "wellness checkin" alarm every hour during school to 1) self monitor how you feel, 2) move lymph and 3) detox: stretch, drink some water, walk around, etc.
There are many potential causes of nervous system upset, and these have to be determined on an individual basis.
Support Your Nervous System
Relax
Release tension with deep breaths. Stretch your muscles. Use various contemplative and self awareness techniques to manage and process stress. Antispasmodic herbs and nervines such as lemon balm, shankhapushpi, kava, and cloves may be helpful to prevent the nervous system from going haywire. Mozart's Sonata For Two Pianos In D Major, K448 has been scientifically proven to reduce seizures.
Keep Blood Chemistry Balanced
Colic & asynchronous nerve firings may be reduced by keeping blood chemistry balanced.
Stay hydrated. Keep electrolytes balanced. Keep blood sugar levels low by avoiding sugars and carb heavy diet.
Daily exercise helps to move blood & lymph, flushing toxins out of the body and refreshing the whole system. Generally, follow a healthy diet & lifestyle.
Alterative herbs such as amalaki are known to regulate blood chemistry.
Good bowel habits
Avoid foods that cause gas and/or fermentation in the gut. This fermentation creates toxicity which stress the body and the nervous system in particular. Sit on the toilet for ten minutes every morning to encourage regular movements
Sleep Habits
Poor sleep aggravates the nervous system. Learn techniques to improve sleep, as well as how to stay relaxed when not sleeping. Avoid screens after 8pm to encourage a good night's sleep.
Disclaimer: 'Epilepsy' could be serious and should be checked by a medical doctor.
WHAT HAS ALREADY HELPED YOU HEAL EPILEPSY?
Improve the accuracy of your recommendations by letting us know what is working.
DIET REMEDIES FOR 'EPILEPSY'
Augment your diet with these specially chosen ingredients below which may be useful for 'Epilepsy'. Individual results vary depending the cause of your imbalance and by constitution. Please research the ingredients below to find which are most helpful for you, and check with your doctor before making any changes to your health and wellness routine.
HERBS & PRODUCTS FOR 'EPILEPSY'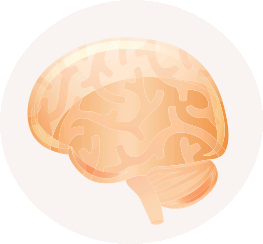 MORE MIND STRESS SLEEP TIPS
DISCLAIMER: The pathogenesis of each person's condition is unique, and so the diet must be fit to the individual and the unique root causes of the condition in your body. The information on this page is for educational purposes only and should not be used to treat a medical condition. It is not a substitute for medical care. Please check with your doctor before making any changes to your health and wellness routine.
AVOID DIETS, LIFESTYLES & HERBS THAT AGGRAVATE THESE EFFECTS
According to Ayurveda, one or more of the following
doshas
and
biocharacteristics
may aggravate 'Epilepsy'. If you have an excess of one of these doshas or biocharacteristics below, Ayurveda recommends reducing foods and lifestyle habits that aggravate them. Click on the biocharacteristic to learn what foods and
lifestyle habits
should be reduced.

Symptoms Tell A Story
The first step to healing is learning patterns from your symptoms. Symptoms are clues that reveal underlying imbalances. Symptoms show you where your body is weakened. Ultimately, all disease has a root in tissues too weak to defend itself. Ayurveda describes these patterns of weakness using doshas & biocharacteristics. If you notice a biocharacteristic or dosha appears next to many of your symptoms, it helps you establish a pattern that may be systemic.
VATA

FIND OUT

Status Unknown

Take

these quizzes

to find out if you have an imbalance of 'Vata' dosha.

CLEAR

ABOUT CLEAR BIOCHARACTERISTIC

Clear refers to anything that cleanses or flushes out wastes, or that digests ama.

FIND OUT

Status Unknown

Take

these quizzes

to find out if you have an imbalance of 'Clear' guna.

MOBILE

ABOUT MOBILE BIOCHARACTERISTIC

Mobile refers to anything that stimulates the nervous system, muscles, or activity.

FIND OUT

Status Unknown

Take

these quizzes

to find out if you have an imbalance of 'Mobile' guna.

DRY

ABOUT DRY BIOCHARACTERISTIC

Dry is identified by lack of moisture, lack of fat, or anything that causes diuresis.

FIND OUT

Status Unknown

Take

these quizzes

to find out if you have an imbalance of 'Dry' guna.

TOXIC

ABOUT TOXIC BIOCHARACTERISTIC

A substance that causes toxicity in the body, or that harms the body.

FIND OUT

Status Unknown

Take

these quizzes

to find out if you have an imbalance of 'Toxic' guna.

ASTRINGENT

ABOUT ASTRINGENT BIOCHARACTERISTIC

Astringency is characterized by constriction, drawing together, or drying.

FIND OUT

Status Unknown

Take

these quizzes

to find out if you have an imbalance of 'Astringent' taste.
To learn more about the symbols above, click on them.
FAVOR DIETS, LIFESTYLES & HERBS WITH THESE MEDICINAL EFFECTS
Everything you eat has an effect on your body, which Ayurveda categorizes in a simple and easy way, using
biocharacteristics (gunas)
. Biocharacteristics are qualities (like cold and hot) that describe the effect a food or herb has on your body. Cooling foods like cucumber, decrease metabolism. Heating foods like chili pepper, stimulate your body and increase metabolism. For 'Epilepsy', you should select foods with the following biocharacteristics. Individual results will vary, based on your body type and the root cause of your imbalance.
HEAVY

ABOUT HEAVY BIOCHARACTERISTIC

Heavy is identified by sedation, sluggishness, or increased weight.

Status Unknown

Take

these quizzes

to find out if you have an imbalance of 'Heavy' guna

OILY

ABOUT OILY BIOCHARACTERISTIC

Oily refers to anything fatty, or that increases fat.

Status Unknown

Take

these quizzes

to find out if you have an imbalance of 'Oily' guna

SALTY

ABOUT SALTY BIOCHARACTERISTIC

Salty refers to anything with salt, or high mineral content.

Status Unknown

Take

these quizzes

to find out if you have an imbalance of 'Salty' taste

SWEET

ABOUT SWEET BIOCHARACTERISTIC

Sweet refers to anything builds tissue, including macronutrients such as carbohydrates, proteins and fats.

Status Unknown

Take

these quizzes

to find out if you have an imbalance of 'Sweet' taste
To learn more about the symbols above, click on them.
BUY YOUR FULL AYURVEDIC BODY CHART
ADDRESS ISSUES IN STAGE OF DISEASE 4
EPILEPSY IS IN STAGE OF DISEASE 4 -
TISSUE DISEASE
If you have symptoms in this category it means your imbalances have overwhelmed your body's resistance causing a full-fledged disease. Once imbalance reaches this stage it is more likely to cause acute or chronic conditions. You might be tempted to focus your attention on fighting symptoms in this category, but dismiss earlier warning signs of imbalance - i.e. symptoms in the stage 1 category. It is ideal to find and address the root causes weakening your system and remove them first. This ensures you are not adding fuel to the fire of disease. Once the root causes are removed, you can work on addressing the disease head on along with strengthening your body. This typically yields a quicker recovery and prevents recurrence. Ayurveda's preventative approach suggests you pay careful attention to every stage of disease development.
REDUCE THESE RELATED SYMPTOMS & HABITS
The following symptoms & habits may be related to 'Epilepsy'. See your
quiz results
for a computerized assessment of your body type. Please click on the symptoms below to learn more about them.
Biocharacteristics of the 190 People Reporting Epilepsy
On average the
biocharacteristics
of people reporting Epilepsy were
more
aggravated than
55%
of other symptoms. From the
190
people who reported Epilepsy in this research study of 74,671 individuals, average deviation in biocharacteristic levels were the following:
Risk Factors of Epilepsy
People who reported the symptoms below were also more likely to report Epilepsy. Overall,
0.56% of 27,271 surveyed
in this research study reported Epilepsy.
Complications of Those Reporting Epilepsy
In this research study, people who report Epilepsy were likely to report the following:
WHAT'S NEXT?
DO YOU WANT TO LEARN MORE ABOUT YOUR UNIQUE BODY?
Then get your free body map! Your body map contains a complete analysis of your Ayurvedic imbalances, organ by organ.
HOW AYURVEDA WORKS
ARE YOU WONDERING HOW AYURVEDA CAN HELP YOU?
WHY IS AYURVEDA THE RIGHT SOLUTION?
Ayurveda strengthens the body, in addition to addressing the disorder. It take a holistic, systemic approach, instead of focusing only on the disorder in question. Ayurveda shows a person how to interpret signs and symptoms of imbalance, and how to address them using materials from home, so they can optimize their health on a continual basis. You can't take the doctor home with you, but you can take Ayurveda home with you. Ayurveda is the most advanced and easy to use home system for self healing with an exceptional focus on digestion.
HOW DOES AYURVEDA WORK?
Ayurveda starts by identifying your
body type
, which identifies certain tendencies in your body to get sick (as well as identifying your strengths). It uses body type to determine the likely root causes of your disorders. Next, Ayurveda analyzes the nature of your disorder. It fits all your signs and symptoms into a pattern, expressed as a combination of
biocharaceristics (gunas)
. For example, you may have a heat disorder, a cold disorder, or an oily disorder, etc. This simple categorical approach shows you how to correct systemic imbalances and strengthen your body as a whole.
On Joyful Belly, we've created an extensive categorization of food so you can easily match food to your imbalanced biocharacteristics. By eating an optimal diet that balances your biocharacteristics, your whole body is strengthened and the conditions that created the disorder are removed. Once the root causes of the disease are removed, the disease lessens in strength or disappears altogether. Additional remedies - such as herbs and lifestyle practices - focused on the specific disorder, can greatly enhance your healing.
GET STARTED
To get started on your Ayurvedic journey, we first recommend that your find your body type by taking our free quiz. In Ayurveda, every solution is based on your unique body type, so by taking this quiz, you'll get the best results.
FIND YOUR BODY TYPE
5 WAYS TO HEAL YOUR BODY
WITH AYURVEDA - FREE REPORT!
New to Ayurveda? Not sure how Ayurveda can help you? This free report shows you 5 simple ways you can heal your body with Ayurveda. It shows you simple, practical ways manage your health.
About the Author
John Immel, the founder of Joyful Belly, teaches people how to have a healthy diet and lifestyle with Ayurveda. His approach to Ayurveda exudes a certain ease, which many find enjoyable and insightful. John also directs Joyful Belly's
School of Ayurveda
, which specializes in digestive tract pathology & Ayurvedic nutrition. John and his wife Natalie recently published
Explore Your Hunger: A Guide to Hunger, Appetite & Food
.
John's interest in Ayurveda and digestive tract pathology was inspired by a complex digestive disorder acquired from years of international travel, including his public service work in South Asia. John's commitment to the detailed study of digestive disorders reflects his zeal to get down to the roots of the problem. His hope and belief in the capacity of each & every client to improve their quality of life is nothing short of a personal passion. John's creativity in the kitchen and delight in cooking for others comes from his family oriented upbringing. In addition to his certification in Ayurveda, John holds a bachelor's degree in mathematics from Harvard University.
John enjoys sharing Ayurveda within the context of his Catholic roots, and finds Ayurveda gives him an opportunity to participate in the healing mission of the Church. Jesus expressed God's love by feeding and healing the sick. That kindness is the fundamental ministry of Ayurveda as well.