Are you prone to a problem with 'Frequent Leftovers'? Find your imbalances and create a diet for your Diet by taking the free diet quiz:
TAKE THE DIET QUIZ
AYURVEDA PERSPECTIVE ON FREQUENT LEFTOVERS
A Fresh Look At Leftovers
It's undeniable - fresh food has a "je ne sais quoi" about it - something special even if you can't detect the difference in a lab. There's something bright, juicy and colorful about fresh food. Classical Ayurveda recommends against eating leftovers, for several reasons. But is leftover food really as bad as Ayurveda claims? There were no refrigerators in ancient India when the Ayurvedic rules were written. Does this rule still apply in modern times? Should you take a fresh look at leftovers?
The majority of people eat leftovers to save time and money. According to an OECD study in 2011, Americans spend only 30 minutes a day on average cooking, thanks to leftovers, the microwave, take out chinese, and pizza delivery.
So what are the pros and cons of eating leftovers? In some cases, leftovers may be healthier than the alternatives. Don't have time to cook lunch on busy office days? Bagging last night's dinner can mean the difference between enjoying a healthy meal versus a mad dash to a nearby fast food chain. Some of my clients are so adamant about following 'no leftovers' rule of Ayurveda that they end up binging on ice-cream rather than day-old veggies. Clearly, eating leftovers is better than fast food and binging on ice-cream. While we can't always make the perfect choices in life, we can strive to make the best ones. At times life is a great balancing act.
Nutritional Value of Leftovers
Let's take a look at some of the costs of leftovers. The fact remains that the longer food sits, whether raw or cooked, the less nutritional value it has. Here we should draw a distinction between the medicinal value or a food and the nutritional value. The medicinal value of food evaporates very quickly with the essential oils and breakdown of other unique phytochemicals. The nutritional value, on the other hand, often degrades more slowly.
The nutritional value in cooked food degrades faster than raw, as in the experiments above. Whether lettuce or potato, your food is often still alive until it is chopped or cooked, even after it has been picked. These foods, while living, are still nutrient dense. Once cooked, your food is definitively dead. As cells decompose so do nutrients and phytochemicals. Enzymes within the cells themselves may auto-digest many of the nutrients.
Exposure to heat, oxygen, light, and many other factors further reduces nutritional value of food. Cooked food that sits in the fridge for several days may have very little nutritional value left in it. Reheating food causes further nutritional degradation. For example, vitamin C and all the B vitamins are very heat sensitive.
Digestibility of Leftovers
Some of my Vata clients with weak digestion simply cannot digest leftover food without stomach upset. Overnight, much of the starch in leftover food like pasta, potato, and rice turns into an indigestible starch called resistant starch. Resistant starch is more like fiber than food. These indigestible fibers lead to gas and bloating for Vata individuals.
Resistant starch isn't all bad. Overweight individuals will be pleased to know that leftover pasta, potato and rice has significantly fewer calories and higher fiber than freshly cooked starches as a result of its indigestibility. These individuals may benefit from leftover carbohydrates, i.e. cook your rice a day in advance if you're trying to lose weight.
Meat proteins, on the other, start to break down when left to sit, rendering the meat easier to digest. Therefore, Vata individuals may benefit from leftover meats. Note that meats generally offer few micronutrients, and total protein content remains relatively the same a day later so there are few drawbacks to leftover meat. Take caution as older meats are much more likely to be rancid.
Are Leftovers Toxic?
Ayurveda believes leftover foods contain ama, which basically means toxicity in Ayurveda. The longer leftovers sit, the more toxic they become due to fermentation by bacteria. Cooked foods turns rancid especially quickly. So, between indigestibility and toxicity, eating leftovers can turn an otherwise healthy bowel into a fermenting cauldron of rotten food.
The following guidelines will ensure your food is safe to eat:
Chill the foods below 40 degrees quickly. Quickly means within two hours on a normal day, and within one hour for a hot summer day. Note: Do not put hot food in the refrigerator because it will heat up the fridge and cause neighboring food to spoil. Instead, put it in an ice-bath in the sink until chilled. Then place in the refrigerator.
Store leftover food in shallow containers (less than 3"). Deep, wide containers (such as a soup pot) do not cool down fast enough. It may take too long for food in the center of the pot to cool down, and this food may spoil. Do not stack leftover food containers on top of each other for the same reason. Make sure there is plenty of room for cold air to circulate in the refrigerator. Do not put leftovers on the fridge door because the temperature fluctuation is too high there.
For better retention of taste and moisture content, as well as reduction of fridge odors distorting taste of your food, always cover leftovers with a lid in the fridge.
Put labels on leftover food so you know how old it is. Do not leave leftovers in the fridge for more than 4 days. Toss any food that appears different in look or smell.
Make sure you reheat the food to at least 160 degrees before consumption to kill any bacteria that is growing in the food. Reheat the food quickly to maintain maximum nutrients.
If the food looks colorless, lifeless, is growing mold or otherwise needs a haircut, throw it out.
The Value of Freshness?
Probably the biggest reason not to eat leftovers is loss of taste. Taste is important in Ayurveda, because taste is how your body chooses and relates to food. Taste is the medicine of the food. Whether you're eating lots of leftovers, TV dinners, or food that comes from a box instead of a farm, these foods have been sitting for a long time, and have lost a lot of their flavor.
Adults may overlook this change in taste. The taste buds of adults are dull, so they may not even notice. Children have far superior taste buds. Kids know intuitively that something in the food has changed - that's why they don't like leftovers. They complain when they have to eat leftovers.
Just imagine day mushy, day old green beans. Wouldn't you say they are tasteless? How would you compare stale bread to freshly baked? Wouldn't it lack aroma? Try the following experiment: Take two sprigs of mint. Cut up one sprig of mint and put it in a bowl. A day later, cut up the other sprig and place in a second bowl. Smell the mint from each bowl. The smell of the newly cut mint will be fresh, vibrant, and alive. The day old mint may hardly smell at all, even though both sprigs are the same age. Try to same experiment with a sweet potato. Cut it in half and cook one half. The next day cook the other half. Smell each half. These experiments illustrate the remarkable difference between freshly cut or cooked food and leftovers.
The aroma and unique flavor in food comes from the essential oils. Along with the flavor, much of the medicinal value of food is contained in the essential oils. These essential oils rapidly evaporate from food as it sits. Therefore as food sits, the fresh flavor and medicinal value evaporate, even if the nutrients do not. Moisture also evaporates from food as it sits. Despite dryness, leftover food may also be soggy.
In Ayurveda, like increases like. Stale foods make you feel stale, while fresh foods restore vibrancy to your step. Food that lacks taste causes you to eat more because it all tastes like cardboard, and fails to satisfy you.
Leftover food is yesterday's news - a day late and a dollar short. Just because your body was craving red meat yesterday doesn't mean you have a red meat deficiency today. Your body may have a new deficiency. It's better to be in the moment with food, instead of one day behind.
How to Save Time and and Stay Vibrant
Now let's talk about some solutions. One way to avoid leftovers is by using a crockpot. Start your crock pot the night before, so your food is ready to take to work the next morning. Simply toss in some veggies, vegetable oil, salt and your favorite protein. In the morning, remove from heat and toss in your favorite spices. Bring a garnish of plain yogurt, fresh herbs and nuts to complement your afternoon crock pot meal.
For a quick meal that night, start by steaming some frozen veggies. Frozen vegetables often have more nutrients than produce left to decay on the shelves. Organic frozen corn, peas and other veggies are non-GMO and easy to cook quickly. Pre-boil 3-4 eggs so you have a reliable protein source, sautee chicken breast, or crack open a can of organic, canned beans.
Drizzle the ensemble with olive oil, garnish with fresh herbs, and sprinkle on some chopped nuts. Buy or pre-make sauces and dressings to have on hand to add to your pre-cut steamed veggies and rice. Sauces, fresh herbs and nuts make it easier for you to create something enjoyable on the fly with a variety of tastes and textures. Whip up a salad, toss in nuts and fresh herbs. This is a great way to get a fresh lively dinner every night.
As a final option, you can always toss a sweet potato in the oven and bake it. For a side, try steamed greens with tahini dressing. Put miso in a warm water for a quick miso soup, so you don't have to think too hard after a long day.
Note: However tempting to throw in some fresh food to liven up leftovers, Ayurveda recommends against mixing new food with old.
Conclusion
Leftovers are healthier than fast food, ice-cream, vending machines, and most processed food. Leftover carbohydrates may have fewer calories, while leftover meats are easy to digest. However, there are some important drawbacks to leftovers as well, including loss of taste, nutrients, indigestibility, and potential for toxicity. For practitioners, the following table summarizes the properties of leftover foods from an Ayurvedic point of view:
| | |
| --- | --- |
| Tastes | Deficient in all 6 tastes |
| Qualities | Dull, dry, rough, hard, gross, cloudy |
| Maha-gunas | Tamasic |

| | |
| --- | --- |
| Elements | Air - Gas & bloating, toxicity |
| Agni | Amagenic, Hard to digest, bhutagni affected |
| Doshas | Vata |

Subdoshas

Bodhaka - Taste
Samana / Apana - Gas / Bloating
Bhrajaka - Ama
Ranjaka - Detoxification

Srotamsi

Prana - Less life force
Anna / Mala - Gas / bloating
Ambu / Mutra / Sveda - Kidney toxicity
Majja - Toxicity

Deficient in

Prana - Less life force
Tejas - Cellular intelligence depleted
Further Questions
What types of food retain nutritional value longest?
Why does Ayurveda avoid mixing fresh food with leftovers?
Images of Frequent Leftovers
Large
DIET FOR IMBALANCES RELATED TO 'FREQUENT LEFTOVERS'
HERBS & SUPPLEMENTS FOR IMBALANCES RELATED TO 'FREQUENT LEFTOVERS'
Please check with your medical doctor before making any changes to your health & wellness routine, and for the proper use of these products.
DIET TIPS
DISCLAIMER: The pathogenesis of each person's condition is unique, and so the diet must be fit to the individual and the unique root causes of the condition in your body. The information on this page is for educational purposes only and should not be used to treat a medical condition. It is not a substitute for medical care. Please check with your doctor before making any changes to your health and wellness routine.
FAVOR DIETS, LIFESTYLES & HERBS WITH THESE MEDICINAL EFFECTS
Everything you eat has an effect on your body, which Ayurveda categorizes in a simple and easy way, using
biocharacteristics (gunas)
. Biocharacteristics are qualities (like cold and hot) that describe the effect a food or herb has on your body. Cooling foods like cucumber, decrease metabolism. Heating foods like chili pepper, stimulate your body and increase metabolism. For 'Frequent Leftovers', you should select foods with the following biocharacteristics. Individual results will vary, based on your body type and the root cause of your imbalance.
CLEAR

ABOUT CLEAR BIOCHARACTERISTIC

Clear refers to anything that cleanses or flushes out wastes, or that digests ama.

Status Unknown

Take

these quizzes

to find out if you have an imbalance of 'Clear' guna
To learn more about the symbols above, click on them. See a complete list of all biocharacteristics.
Appetizer
APPETIZER
Herbs that cleanse the palate & stimulate hunger or desire to eat.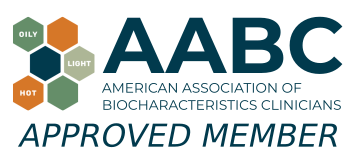 Joyful Belly is a recognized school of
biocharacteristics medicine
.
AVOID ACCUMULATION IN STAGE OF DISEASE 0
FREQUENT LEFTOVERS IS IN STAGE OF DISEASE 0 -
POTENTIAL CAUSE
Potential causes increase and disturb your imbalanced doshas and biocharacteristics, causing them to accumulate and spiral out of control. For example, if you're overheated and eat a chili pepper, heat may become excessive and cause disease. As a dosha or biocharacteristic accumulates in your body according to your dietary and lifestyle habits, it is more and more likely to cause disease. You can reduce an imbalanced dosha or biocharacteristic in two ways, by removing, or lessening the frequency of aggravating causes from your diet and lifestyle, as well as by favoring balancing diet and lifestyle practices. For example, try eating something as cool as a cucumber when you're overheated, instead of a chili pepper.
GET MY FREE AYURVEDA BODY MAP
AGGRAVATES THESE DOSHAS & BIOCHARACTERISTICS
'Frequent Leftovers' is likely to aggravate the following doshas and biocharacteristics. If you have a systemic imbalance of one of these doshas or biocharacteristics, Ayurveda would generally recommend removing, substitute or lessen the frequency of 'Frequent Leftovers'.

Imbalance Accumulates
Improper food and lifestyle causes balances to accumulate. Ayurveda shows you exactly which doshas and biocharacteristics are likely to accumulate in your body. Once these doshas and biocharacteristics accumulate too much, they will begin to cause imbalance. You can reduce an imbalanced dosha or biocharacteristic by removing things that aggravate it from your diet and lifestyle.
VATA

FIND OUT

Status Unknown

Take

these quizzes

to find out if you have an imbalance of 'Vata' dosha.

DIFFICULT

ABOUT DIFFICULT BIOCHARACTERISTIC

Difficult refers to anything that is difficult to digest, or takes a long time to digest.

FIND OUT

Status Unknown

Take

these quizzes

to find out if you need to decrease Difficult to digest foods.

DRY

ABOUT DRY BIOCHARACTERISTIC

Dry is identified by lack of moisture, lack of fat, or anything that causes diuresis.

FIND OUT

Status Unknown

Take

these quizzes

to find out if you have an imbalance of 'Dry' guna.

TOXIC

ABOUT TOXIC BIOCHARACTERISTIC

A substance that causes toxicity in the body, or that harms the body.

FIND OUT

Status Unknown

Take

these quizzes

to find out if you have an imbalance of 'Toxic' guna.
To learn more about the symbols above, click on them. See a complete list of all biocharacteristics.
RELATED SYMPTOMS & HABITS
The following symptoms & habits may be related to 'Frequent Leftovers'. See your
quiz results
for a computerized assessment of your body type. Please click on the symptoms below to learn more about them.
Biocharacteristics of 14,905 People Reporting Frequent Leftovers
On average the
biocharacteristics
of people reporting Frequent Leftovers were
less
aggravated than
83%
of other symptoms. From the
14,905
people who reported Frequent Leftovers in this research study of 74,671 individuals, average deviation in biocharacteristic levels were the following:
Risk Factors of Frequent Leftovers
Below you will see general risk factors as well as the greatest risk factors, i.e. those who were also more likely to report Frequent Leftovers. Overall,
35.49% of people surveyed
in this research study reported Frequent Leftovers.
Review These Common Risk Factors
Show All
Complications of Those Reporting Frequent Leftovers
In this research study, people who report Frequent Leftovers were likely to report the following:
DISCOVER YOUR BODY WITH YOUR FREE INDIVIDUALIZED BODY MAP
Find ideal foods, herbs and lifestyle tips. See your imbalances, and locate intervention points. Your body map contains a complete analysis of your Ayurvedic imbalances, organ by organ. Give your chart to your functional medical doctor or any alternative health practitioner.
HOW AYURVEDA WORKS
ARE YOU WONDERING HOW AYURVEDA CAN HELP YOU?
WHY IS AYURVEDA THE RIGHT SOLUTION?
Ayurveda strengthens the body while opposing disorders. It takes a holistic, systemic approach that looks at the whole body. Ayurveda shows how to interpret signs and symptoms of imbalance, and how to address them using diet, lifestyle adjustments, and herbs. It shows a person how to optimize their health on a continual basis. You can't take the doctor home with you, but you can take Ayurveda home with you. Ayurveda is the most advanced and easy to use home system for self healing.
HOW DOES AYURVEDA WORK?
Ayurveda starts by identifying your
body type
, which identifies certain tendencies in your body to get sick (as well as identifying your strengths). It uses body type to determine the likely root causes of your disorders. Next, Ayurveda analyzes the nature of your disorder. It fits all your signs and symptoms into a pattern, expressed as a combination of
biocharaceristics (gunas)
. For example, you may have a heat disorder, a cold disorder, or an oily disorder, etc. This simple categorical approach shows you how to correct systemic imbalances and strengthen your body as a whole.
On Joyful Belly, we've created an extensive categorization of food so you can easily match food to your imbalanced biocharacteristics. By eating an optimal diet that balances your biocharacteristics, your whole body is strengthened and the conditions that created the disorder are removed. Once the root causes of the disease are removed, the disease lessens in strength or disappears altogether. Additional remedies - such as herbs and lifestyle practices - focused on the specific disorder, can greatly enhance your healing.
GET STARTED
To get started on your Ayurvedic journey, we first recommend that your find your body type by taking our free quiz. In Ayurveda, every solution is based on your unique body type, so by taking this quiz, you'll get the best results.
FIND YOUR BODY TYPE
5 WAYS TO HEAL YOUR BODY
WITH AYURVEDA - FREE REPORT!
New to Ayurveda? Not sure how Ayurveda can help you? This free report shows you 5 simple ways you can heal your body with Ayurveda. It shows you simple, practical ways manage your health.
About the Author
John Immel, the founder of Joyful Belly, teaches people how to have a healthy diet and lifestyle with
Ayurveda biocharacteristics
. His approach to Ayurveda is clinical, yet exudes an ease which many find enjoyable and insightful. John also directs Joyful Belly's
School of Ayurveda
, offering professional clinical training in Ayurveda for over 15 years.
John's interest in Ayurveda and specialization in digestive tract pathology was inspired by a complex digestive disorder acquired from years of international travel, as well as public service work in South Asia. John's commitment to the detailed study of digestive disorders reflects his zeal to get down to the roots of the problem. His hope and belief in the capacity of each & every client to improve their quality of life is nothing short of a personal passion. John's creativity in the kitchen and delight in cooking for others comes from his family oriented upbringing. In addition to his certification in Ayurveda, John holds a bachelor's degree in mathematics from Harvard University.
John enjoys sharing Ayurveda within the context of his Catholic roots, and finds Ayurveda gives him an opportunity to participate in the healing mission of the Church. Jesus expressed God's love by feeding and healing the sick. That kindness is the fundamental ministry of Ayurveda as well. Outside of work, John enjoys spending time with his wife and 6 kids, and pursuing his love of theology, philosophy, and language.
Comments & Personal Experiences
What are some of the reasons why you include 'frequent leftovers' in your life? Is there something you'd like to know about 'frequent leftovers'?




(4.75 out of 5 stars) 4 ratings, 34 likes
Sign in to review this symptom
Well this article was disconcerting because with my work, its physical/mental/emotional demands, the hours and how utterly exhausted i often am plus the demands at home as my husband is limited in how much he can do (but his emotional support is priceless), i rely on healthy leftovers to make sure i am not eating out or take-out, not fixing meals with processed foods at home. I just have to have it as easy as it can be to stick with it 75-80% of the time. I guess i am going to have to pick between better of 2 evils.
-
Denise Leonard, Lexington, NC
01-23-16
(
Reply
)
Raw food is considered difficult to digest - especially for Vata types.
-
Kimberly Kubicke, Asbury park, NJ





07-21-16
(
Reply
)
Well this article was disconcerting because with my work, its physical/mental/emotional demands, the hours and how utterly exhausted i often am plus the demands at home as my husband is limited in how much he can do (but his emotional support is priceless), i rely on healthy leftovers to make sure i am not eating out or take-out, not fixing meals with processed foods at home. I just have to have it as easy as it can be to stick with it 75-80% of the time. I guess i am going to have to pick between better of 2 evils.
-
Denise Leonard, Lexington, NC
01-23-16
(
Reply
)
Raw food is considered difficult to digest - especially for Vata types.
-
Kimberly Kubicke, Asbury park, NJ





07-21-16
(
Reply
)