Are you prone to a problem with 'Hypothyroid'? Find your imbalances and create a diet for your Weight by taking the free weight loss quiz:
TAKE THE WEIGHT LOSS QUIZ
AYURVEDA PERSPECTIVE ON HYPOTHYROID
If you run your hand along the front of your neck starting right below your chin, you'll eventually hit a slight bump - that's when you know you've hit the thyroid gland. Your thyroid is a butterfly-shaped gland located along the mid-line of your neck, only a few inches above your lungs. The thyroid produces the hormones that regulate your metabolism. The proximity of these organs almost begs us to assume an inherent relationship between respiration, oxygen, and metabolism.
How Does a Person with Hypothyroid Feel?
When your thyroid become impaired, you may feel cold because thyroid hormones increase your metabolism, which generates heat. If you are the first to reach for a sweater or are intolerant to cold, you may not have a properly functioning thyroid. You may wake up in the morning still tired from the night before. Some people with low thyroid feel their mind isn't sharp or clear - in fact, many describe the effect on the mind as "brain-fog." You may feel drugged as if moving through water. You may notice more and more hair coming out in your brush or the shower, as well as brittle, flaky nails. You may experience weight gain, even with proper diet and exercise. Blood flow to your skin may be diminished, causing dryness. The bowels may also become dry or sluggish. Your breath may be shallow as well. Many women chalk up crankiness and intensely painful periods to peri-menopause, not realizing that their thyroid is actually compromised.
Symptoms of hypothyroid include: Slow pulse, fatigue, hoarse voice, slowed speech, goiter (caused by swollen thyroid gland), sensitivity to cold, weight gain, constipation, dry, scaly, thick, coarse hair, numbness in fingers or hands, confusion, depression, dementia, headaches, menstrual problems, paleness, muscle and/or joint pain. In children: slowed growth, delayed teething, and slow mental development.
Western Definition of Hypothyroid
Hypothyroidism happens when your thyroid gland, located at the front of your neck, doesn't produce enough thyroid hormone (underactive thyroid). Thyroid hormones are responsible for regulating your metabolism of protein, carbohydrates and fats. They raise basal cell temperature and play a role in the development and differentiation of all cells in the body. This condition is most common in post-menopausal women, yet can affect men and women of all ages. It's helpful to understand the roles of all three thyroid hormones, TSH, T3 and T4. Here's a simple explanation from the University of Maryland.
"Your thyroid gland produces two main thyroid hormones, T3 and T4. In addition, the pituitary gland produces thyroid-stimulating hormone (TSH), which helps control how much T3 and T4 the thyroid makes. Your health care provider will draw blood to measure levels TSH. When levels of thyroid hormones are low, your body produces more TSH to increase production of thyroid hormones. Your doctor may also test for levels of T3 or T4.
Natural medicine practitioners may pay particular attention to levels of T3 hormone. T3 is the active form of thyroid hormone. Your thyroid gland makes some T3, but the body also converts T4 into T3. If you are unable to convert T4 to T3, your laboratory tests for T4 may be normal, but you still may have all the symptoms of hypothyroidism. Talk to your doctor about including T3 laboratory tests in the treatment of your hypothyroidism."
Source: Hypothyroidism | University of Maryland Medical Center
Pathogenesis of Thyroid Disorders
Thyroid problems may be the result of
Thyroid inflammation
An auto-immune attack on the thyroid
Peripheral resistance to thyroid hormones - recognized in the 1960s but inadequately studied. Thyroid hormone production will be normal in this case, but symptoms will be present.
Adrenal pathology
Blood congestion (thickness & viscosity)
The fact that thyroid disease is 10 times more common in women compared to men suggests estrogen plays a role in thyroid disorders. Estrogen stimulates the liver to bind thyroid hormones, causing hypothyroid.
Blood Congestion & Metabolism
Oxygen feeds the fire of your metabolism. Like snuffing out a candle, a lack of oxygen depresses metabolism. Under conditions of poor circulation the thyroid will naturally shift to a hypo-active state. The placement of your thyroid close to the lungs is not coincidental, but has meaning.
The thyroid tends to get a lot of the blame in the metabolism & weight loss game. The thyroid approach can leave you feeling a little fatalistic about metabolism - as if it's a fixed thing - you were either born with a high or a low metabolism and there's nothing you can do about it. But the foods you eat can affect your metabolism.
Rich foods such as bread, cheese and sugar, depress your metabolism because they thicken your bodily fluids. As your blood thickens, it becomes harder to circulate. Your circulation is responsible for carrying oxygen to all the cells of the body. When blood is thick and sluggish, oxygen delivery is thwarted, depressing your metabolism. A thick coating of mucus in your lungs doesn't help. The mucus thwarts absorption of oxygen. So you should avoid these foods if you have a low metabolism, no matter what your thyroid count is.
Depressed metabolism, when Kapha thick blood is the cause, is considered to be a circulatory problem.
The effect of thick blood on your metabolism is similar to a campfire with too many logs on it. If you've ever built a fire then you've probably had this experience. When there are too many logs, the fire starts to smolder, especially when the wood is wet. This relates perfectly to heavy, rich foods slowing metabolism. The vitality of your metabolic fire becomes dim and smoky. It becomes cloudy, and unclear. Once your fire is choked, it takes even longer to burn off the logs. If you had a nice roaring fire and threw a bunch of logs on it the fire would rip right through it. But when your metabolism is already smoldering, adding more rich food just slows down your whole system. Everything gets stagnant and dim, starting with digestion, and including your metabolism. Even thinking becomes difficult, and your thoughts cloudy. This literally happens because of the changes in your blood.
Low thyroid is simply the end of a chain reaction. If you set off a long string of dominoes on a table - thyroid might be the last one to tumble. But the process started a long way back. In order to rectify it, you must start at the beginning.
Qualities of Hypothyroidism
In Ayurveda, treatment of any condition begins by understanding its qualities. By assessing the symptoms and feelings associated with hypothyroid, you can observe that the qualities of hypothyroid are Heavy, Slow, Cold, Soft, Stagnant, and Dull. All of these qualities are associated with heavy Kapha Dosha. By avoiding these qualities, you stop feeding the disorder. By incorporating opposite qualities of Hot, Sharp, Light, Mobile, and Dry, you can balance your thyroid.
Home Remedies for Low Metabolism & Thyroid Disorders
Diet & herbs for thyroid disorders often have the following actions:
General detoxification
Antioxidants & Anti-inflammatories (Fucus vesiculosus, Selenium)
Liver Herbs - To normalize hormones
Antivirals (Andrographis paniculata, Artemsia annua)
Immunomodulators (Astragalus)
Mood lifters (St. John's Wort, Lemon Balm)
Mint family herbs (Motherwort)
Breathing & Low Thyroid
In Ayurveda, oxygen is closely related to prana, or life force.
Breathing exercises (pranayama)
can help keep your diaphragm toned, and quickly oxygenate your blood. This leaves you feeling refreshed. Pranayama is one of the most effective home remedies for low thyroid. The three best types of pranayama for low thyroid are brahmeri, kapalabhati and bhastrika. Bhrameri includes a humming noise, which directly vibrates the thyroid gland, revitalizing it. But, even simple full-belly breathing will help!
If your thyroid is low, your smooth muscle tissue may lose strength and tone. Your heart, diaphragm, and intestines will become weak. As your diaphragm weakens, your breath becomes shallow and you get even less oxygen. Pranayama is a great way to strengthen your diaphragm and get a full breath again. It helps circulate the blood in your core, improving your circulation in general.
Pranayama detoxifies your body, the lungs in particular. Remember, one main cause of impaired circulation of oxygen is a too-thick mucosal lining in the lungs. So, incorporating a daily breathing practice cleanses, detoxifies, and whittles away at this thick layer of mucus. This allows your body to utilize the oxygen you inhale. The sensation of light, bright, clear-minded freshness you feel after just 10 minutes of breathing indicates that your body is receiving more oxygen.
Exercise and Your Thyroid
Exercise is another way to improve your metabolism. Like pranayama, moderate exercise like walking improves your circulation, strengthens your muscles, and oxygenates your blood. The following yoga poses can help your thyroid gland:
Interlock hands behind the back and take a deep breath.
Stretch the thyroid with fish pose, plow pose, shoulder stand
Sun salutations to increase cardiac rate
Lung openers like camel, cow pose, and gentle backbends in general are good for thyroid
Diet for Low Thyroid
If you eat heavy foods your digestion may feel sluggish for a few hours. Sluggishness may resolve in your digestive tract quickly, but when it gets pushed to the blood it can take a month or more to burn off. A practitioner can help decongest your blood faster with a custom cleanse. A modest guided cleanse can speed up the process of resetting your blood and metabolism.
Green vegetables, and especially those with bitter taste, increase prana, making you feel fresh and vital. Examples include chicory, red leaf lettuce & cooked kale. Avoid raw cruciferous vegetables like broccoli, cabbage, and kale but these are fine when cooked. Avoid water containing fluoride, which was used as a thyroid suppressant in the 1950s.
Healthy fats are the building blocks for all hormones. Support your thyroid's hormone production by providing it with great materials to work with! Coconut oil, ghee, flax oil, and fish oil are all great sources.
Spices like ginger & black pepper stimulate your heart rate and get your circulation moving. Your circulation can also be improved through warm teas, turmeric, mild exercise, stretching, and massage.
Herbs for Thyroid Support
Punarnava- Lights a fire for slow digestion, especially helpful for toxicity. Punarnava gives a big boost to your metabolic fire. Reduces kapha and aids in weight loss by removing excess water.
Vacha- Stimulates the mind. Vacha is great for brain fog and kapha type depression.
Trikatu- Very hot and dry- trikatu jumpstarts the digestive fire. Have a pinch before meals.
Bacopa- Brightens and sharpens the mind to address brain-fog and depression.
Eleuthero- Commonly known as Siberian Ginseng. Adaptogenic herb that supports adrenals, which are often compromised in hypothyroid patients.
Lemongrass- Digestive and boosts fat metabolism.
Guggulu- Studies show guggulu can increase thyroid output of hormones and stimulate the conversion of the T4 into T3 form, thus addressing two of the three hormonal deficiencies responsible for hyprothyroidism. This can help increase metabolism and burn fat. Gugguisterones (what a fun word!) are the chemical constituent responsible.
Lemons are especially useful for dry skin in hypothyroid, as it dilates the pores.
B vitamins- Although not an herb, B vitamins greatly help fatigue
An easy home formula to improve your circulation: Try an herbal tea with lemon, turmeric, and cinnamon
See
Remedies for Hypothyroid CD
. Avoid pesticides, fertilizers, nitrites, & heavy metals as these can all disrupt endocrine function. Avoid alcohol, brassicas, and soy which all contain thyrotoxic substances.
Beliefs that Support Your Thyroid
Speak up for your beliefs! Some people feel a lump in their throat when they are faced with a challenging discussion. That means you have musculo-skeletal tension in the area of your thyroid gland, putting this organ under stress. Pathological submission, inability to speak, & lack of righteousness is the spiritual cause of hashimotos and hypothyroid. The world needs your input and ideas to be made whole.
The Role of Your Adrenals
Many people with hypothyroidism of all types also suffer from depleted adrenals, known as adrenal fatigue. Typically, depleted adrenals comes first, followed by a depressed thyroid. The reason is that when adrenals become weak due to chronic stress, poor diet, trauma either physical or emotional, they release unnecessary stress hormones that put the body process of breakdown. Since the thyroid controls metabolism, it does it's best to balance the process started by your adrenals. The result is a slow thyroid as a result of weakened adrenals. This process can happen over a period of months to years. So, in order to support your thyroid function, it's imperative that you take notice of your adrenal strength. If they are depleted, you must address both your thyroid and adrenals.
Supporting your adrenals is quite simple. It takes rest and stress reduction, mainly lifestyle changes that calm down buzzy, anxiety ridden vata dosha. Many herbs that calm vata also support the adrenals as do adaptogenic herbs like ashwagangha, tulsi, eleuthro, and schisandra.
Images of Hypothyroid
Large
Disclaimer: 'Hypothyroid' could be serious and should be checked by a medical doctor.
WHAT HAS ALREADY HELPED YOU HEAL HYPOTHYROID?
Improve the accuracy of your recommendations by letting us know what is working.
DIET REMEDIES FOR 'HYPOTHYROID'
HERBS & SUPPLEMENTS FOR 'HYPOTHYROID'
Please check with your medical doctor before making any changes to your health & wellness routine, and for the proper use of these products.
WEIGHT LOSS TIPS
DISCLAIMER: The pathogenesis of each person's condition is unique, and so the diet must be fit to the individual and the unique root causes of the condition in your body. The information on this page is for educational purposes only and should not be used to treat a medical condition. It is not a substitute for medical care. Please check with your doctor before making any changes to your health and wellness routine.
FAVOR DIETS, LIFESTYLES & HERBS WITH THESE MEDICINAL EFFECTS
Everything you eat has an effect on your body, which Ayurveda categorizes in a simple and easy way, using
biocharacteristics (gunas)
. Biocharacteristics are qualities (like cold and hot) that describe the effect a food or herb has on your body. Cooling foods like cucumber, decrease metabolism. Heating foods like chili pepper, stimulate your body and increase metabolism. For 'Hypothyroid', you should select foods with the following biocharacteristics. Individual results will vary, based on your body type and the root cause of your imbalance.
CLEAR

ABOUT CLEAR BIOCHARACTERISTIC

Clear refers to anything that cleanses or flushes out wastes, or that digests ama.

Status Unknown

Take

these quizzes

to find out if you have an imbalance of 'Clear' guna

DRY

ABOUT DRY BIOCHARACTERISTIC

Dry is identified by lack of moisture, lack of fat, or anything that causes diuresis.

Status Unknown

Take

these quizzes

to find out if you have an imbalance of 'Dry' guna

HOT

ABOUT HOT BIOCHARACTERISTIC

Hot is identified by increased body temperature, metabolism, or inflammation.

Status Unknown

Take

these quizzes

to find out if you have an imbalance of 'Hot' guna

LIQUEFIED

ABOUT LIQUEFIED BIOCHARACTERISTIC

Substances that thin fluids (lower viscosity of blood plasma). These may include blood thinners or mucolytic herbs.

Status Unknown

Take

these quizzes

to find out if you have an imbalance of 'Liquefied' guna

BITTER

ABOUT BITTER BIOCHARACTERISTIC

Bitter is disagreeable and stimulates rejection. It is a strong taste often associated with black coffee, dark chocolate, and most salad greens.

Status Unknown

Take

these quizzes

to find out if you have an imbalance of 'Bitter' taste

PUNGENT

ABOUT PUNGENT BIOCHARACTERISTIC

Pungency is characterized by irritation, or sharp, spicy foods that irritate the mouth such as black pepper.

Status Unknown

Take

these quizzes

to find out if you have an imbalance of 'Pungent' taste
To learn more about the symbols above, click on them.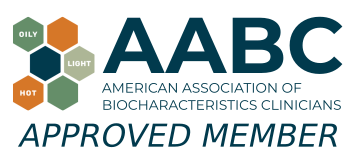 Joyful Belly is a recognized school of
biocharacteristics medicine
.
ADDRESS ISSUES IN STAGE OF DISEASE 4
HYPOTHYROID IS IN STAGE OF DISEASE 4 -
TISSUE DISEASE
If you have symptoms in this category it means your imbalances have overwhelmed your body's resistance causing a full-fledged disease. Once imbalance reaches this stage it is more likely to cause acute or chronic conditions. You might be tempted to focus your attention on fighting symptoms in this category, but dismiss earlier warning signs of imbalance - i.e. symptoms in the stage 1 category. It is ideal to find and address the root causes weakening your system and remove them first. This ensures you are not adding fuel to the fire of disease. Once the root causes are removed, you can work on addressing the disease head on along with strengthening your body. This typically yields a quicker recovery and prevents recurrence. Ayurveda's preventative approach suggests you pay careful attention to every stage of disease development.
GET MY FREE AYURVEDA BODY MAP
AVOID DIETS, LIFESTYLES & HERBS THAT AGGRAVATE THESE EFFECTS
According to Ayurveda, one or more of the following
doshas
and
biocharacteristics
may aggravate 'Hypothyroid'. If you have an excess of one of these doshas or biocharacteristics below, Ayurveda recommends reducing foods and lifestyle habits that aggravate them. Click on the biocharacteristic to learn what foods and
lifestyle habits
should be reduced.

Symptoms Tell A Story
The first step to healing is learning patterns from your symptoms. Symptoms are clues that reveal underlying imbalances. Symptoms show you where your body is weakened. Ultimately, all disease has a root in tissues too weak to defend itself. Ayurveda describes these patterns of weakness using doshas & biocharacteristics. If you notice a biocharacteristic or dosha appears next to many of your symptoms, it helps you establish a pattern that may be systemic.
KAPHA

FIND OUT

Status Unknown

Take

these quizzes

to find out if you have an imbalance of 'Kapha' dosha.

GOOEY

ABOUT GOOEY BIOCHARACTERISTIC

Gooey is identified by anything gelatinous (such as oatmeal), or by mucus congestion.

FIND OUT

Status Unknown

Take

these quizzes

to find out if you have an imbalance of 'Gooey' guna.

HEAVY

ABOUT HEAVY BIOCHARACTERISTIC

Heavy is identified by sedation, sluggishness, or increased weight.

FIND OUT

Status Unknown

Take

these quizzes

to find out if you have an imbalance of 'Heavy' guna.

OILY

ABOUT OILY BIOCHARACTERISTIC

In Ayurveda, oily refers to anything moistening. More specifically, oily refers to building substances that increases fat, or are themselves fatty. For example, sugar is Oily.

FIND OUT

Status Unknown

Take

these quizzes

to find out if you have an imbalance of 'Oily' guna.

SWEET

ABOUT SWEET BIOCHARACTERISTIC

Sweet refers to anything builds tissue, including macronutrients such as carbohydrates, proteins and fats.

FIND OUT

Status Unknown

Take

these quizzes

to find out if you have an imbalance of 'Sweet' taste.
To learn more about the symbols above, click on them.
RELATED SYMPTOMS & HABITS
The following symptoms & habits may be related to 'Hypothyroid'. See your
quiz results
for a computerized assessment of your body type. Please click on the symptoms below to learn more about them.
Biocharacteristics of 5,573 People Reporting Hypothyroid
On average the
biocharacteristics
of people reporting Hypothyroid were
less
aggravated than
66%
of other symptoms. From the
5,573
people who reported Hypothyroid in this research study of 74,671 individuals, average deviation in biocharacteristic levels were the following:
Risk Factors of Hypothyroid
Below you will see general risk factors as well as the greatest risk factors, i.e. those who were also more likely to report Hypothyroid. Overall,
15.17% of people surveyed
in this research study reported Hypothyroid.
Review These Common Risk Factors
Show All
Complications of Those Reporting Hypothyroid
In this research study, people who report Hypothyroid were likely to report the following:
WHAT'S NEXT?
DISCOVER YOUR BODY WITH YOUR FREE INDIVIDUALIZED BODY MAP
Find ideal foods, herbs and lifestyle tips. See your imbalances, and locate intervention points. Your body map contains a complete analysis of your Ayurvedic imbalances, organ by organ. Give your chart to your functional medical doctor or any alternative health practitioner.
HOW AYURVEDA WORKS
ARE YOU WONDERING HOW AYURVEDA CAN HELP YOU?
WHY IS AYURVEDA THE RIGHT SOLUTION?
Ayurveda strengthens the body while opposing disorders. It takes a holistic, systemic approach that looks at the whole body. Ayurveda shows how to interpret signs and symptoms of imbalance, and how to address them using diet, lifestyle adjustments, and herbs. It shows a person how to optimize their health on a continual basis. You can't take the doctor home with you, but you can take Ayurveda home with you. Ayurveda is the most advanced and easy to use home system for self healing.
HOW DOES AYURVEDA WORK?
Ayurveda starts by identifying your
body type
, which identifies certain tendencies in your body to get sick (as well as identifying your strengths). It uses body type to determine the likely root causes of your disorders. Next, Ayurveda analyzes the nature of your disorder. It fits all your signs and symptoms into a pattern, expressed as a combination of
biocharaceristics (gunas)
. For example, you may have a heat disorder, a cold disorder, or an oily disorder, etc. This simple categorical approach shows you how to correct systemic imbalances and strengthen your body as a whole.
On Joyful Belly, we've created an extensive categorization of food so you can easily match food to your imbalanced biocharacteristics. By eating an optimal diet that balances your biocharacteristics, your whole body is strengthened and the conditions that created the disorder are removed. Once the root causes of the disease are removed, the disease lessens in strength or disappears altogether. Additional remedies - such as herbs and lifestyle practices - focused on the specific disorder, can greatly enhance your healing.
GET STARTED
To get started on your Ayurvedic journey, we first recommend that your find your body type by taking our free quiz. In Ayurveda, every solution is based on your unique body type, so by taking this quiz, you'll get the best results.
FIND YOUR BODY TYPE
5 WAYS TO HEAL YOUR BODY
WITH AYURVEDA - FREE REPORT!
New to Ayurveda? Not sure how Ayurveda can help you? This free report shows you 5 simple ways you can heal your body with Ayurveda. It shows you simple, practical ways manage your health.
About the Author
John Immel, the founder of Joyful Belly, teaches people how to have a healthy diet and lifestyle with
Ayurveda biocharacteristics
. His approach to Ayurveda is clinical, yet exudes an ease which many find enjoyable and insightful. John also directs Joyful Belly's
School of Ayurveda
, offering professional clinical training in Ayurveda for over 15 years.
John's interest in Ayurveda and specialization in digestive tract pathology was inspired by a complex digestive disorder acquired from years of international travel, as well as public service work in South Asia. John's commitment to the detailed study of digestive disorders reflects his zeal to get down to the roots of the problem. His hope and belief in the capacity of each & every client to improve their quality of life is nothing short of a personal passion. John's creativity in the kitchen and delight in cooking for others comes from his family oriented upbringing. In addition to his certification in Ayurveda, John holds a bachelor's degree in mathematics from Harvard University.
John enjoys sharing Ayurveda within the context of his Catholic roots, and finds Ayurveda gives him an opportunity to participate in the healing mission of the Church. Jesus expressed God's love by feeding and healing the sick. That kindness is the fundamental ministry of Ayurveda as well. Outside of work, John enjoys spending time with his wife and 6 kids, and pursuing his love of theology, philosophy, and language.
Comments & Personal Experiences
How does 'hypothyroid' affect your quality of life? What aggravates it? What has helped you? Is there something you'd like to know about 'hypothyroid'?





(5.00 out of 5 stars) 2 ratings, 197 likes
Sign in to review this symptom
Thank you for this! This has to be the best explanation that I've found for how to approach low metabolism and thyroid degeneration.
-
Narayani





01-01-15
(
Reply
)
So glad you find this helpful!
-
Heather Vaughan, CAy, RYT, Albuquerque, NM
01-07-15
(
Reply
)
Thank you for this! This has to be the best explanation that I've found for how to approach low metabolism and thyroid degeneration.
-
Narayani





01-01-15
(
Reply
)
So glad you find this helpful!
-
Heather Vaughan, CAy, RYT, Albuquerque, NM
01-07-15
(
Reply
)