Table of Contents
Are you prone to a problem with 'Sensitive / Overactive Bladder'? Find your imbalances and create a diet for your Kidney, Bladder & Urinary tract by taking the free kidney bladder urinary quiz:
TAKE THE KIDNEY BLADDER URINARY QUIZ
AYURVEDA PERSPECTIVE ON SENSITIVE / OVERACTIVE BLADDER
An overactive bladder is hypersensitive to distension - leading to frequent urination and discomfort when a small amount of urine is present in the bladder. The cause may include inflammation, tension of the bladder, or elevated neurotransmitters.
Inflammation may include infection, prostatitis, inflammation of the urethra, and allergens.
Tension may be due to stress, or toxins (ama) in rasa. Kegel exercises focused on the relaxing phase may help reduce tension in the pelvis.
Disclaimer: 'Sensitive / Overactive Bladder' could be serious and should be checked by a medical doctor.
WHAT HAS ALREADY HELPED YOU HEAL SENSITIVE / OVERACTIVE BLADDER?
Improve the accuracy of your recommendations by letting us know what is working.
DIET REMEDIES FOR 'SENSITIVE / OVERACTIVE BLADDER'
These ingredients are contraindicated / may aggravate 'Sensitive / Overactive Bladder'.

HERBS & SUPPLEMENTS FOR 'SENSITIVE / OVERACTIVE BLADDER'
Please check with your medical doctor before making any changes to your health & wellness routine, and for the proper use of these products.
KIDNEY BLADDER URINARY TIPS
DISCLAIMER: The pathogenesis of each person's condition is unique, and so the diet must be fit to the individual and the unique root causes of the condition in your body. The information on this page is for educational purposes only and should not be used to treat a medical condition. It is not a substitute for medical care. Please check with your doctor before making any changes to your health and wellness routine.
Anti Inflammatory
ANTI-INFLAMMATORY
Reduces inflammation in the body. Different herbs and carriers target different body systems.
Antispasmodic
ANTISPASMODIC
Herbs that reduce or inhibit muscle spasms or cramping, such as in asthma, menstruation, hear palpitations, migraine, or IBS.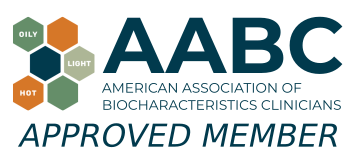 Joyful Belly is a recognized school of
biocharacteristics medicine
.
HOW TO ADDRESS ISSUES IN STAGE OF DISEASE #3
SENSITIVE / OVERACTIVE BLADDER IS IN STAGE OF DISEASE #3 -
ATTACKING TISSUE
If you have symptoms in this category it means that your imbalances are becoming stronger and weakening your body's resistance. Most people have a weakness in one or more organs. These areas of weakness are the 'weak link in the chain.' They are first to succumb when an imbalance reaches a tipping point. Repairing imbalances in this category often represent your last opportunity to prevent disease. At any moment, these imbalances could overwhelm weakened tissue and develop into a disease. You may feel pain or discomfort in the weakened area. At this stage you will need to support the weakened tissue with specialized foods and herbs for the weakened tissue.
GET MY FREE AYURVEDA BODY MAP
DISCOVER YOUR BODY WITH YOUR FREE INDIVIDUALIZED BODY MAP
Find ideal foods, herbs and lifestyle tips. See your imbalances, and locate intervention points. Your body map contains a complete analysis of your Ayurvedic imbalances, organ by organ. Give your chart to your functional medical doctor or any alternative health practitioner.
HOW AYURVEDA WORKS
ARE YOU WONDERING HOW AYURVEDA CAN HELP YOU?
WHY IS AYURVEDA THE RIGHT SOLUTION?
Ayurveda strengthens the body while opposing disorders. It takes a holistic, systemic approach that looks at the whole body. Ayurveda shows how to interpret signs and symptoms of imbalance, and how to address them using diet, lifestyle adjustments, and herbs. It shows a person how to optimize their health on a continual basis. You can't take the doctor home with you, but you can take Ayurveda home with you. Ayurveda is the most advanced and easy to use home system for self healing.
HOW DOES AYURVEDA WORK?
Ayurveda starts by identifying your
body type
, which identifies certain tendencies in your body to get sick (as well as identifying your strengths). It uses body type to determine the likely root causes of your disorders. Next, Ayurveda analyzes the nature of your disorder. It fits all your signs and symptoms into a pattern, expressed as a combination of
biocharaceristics (gunas)
. For example, you may have a heat disorder, a cold disorder, or an oily disorder, etc. This simple categorical approach shows you how to correct systemic imbalances and strengthen your body as a whole.
On Joyful Belly, we've created an extensive categorization of food so you can easily match food to your imbalanced biocharacteristics. By eating an optimal diet that balances your biocharacteristics, your whole body is strengthened and the conditions that created the disorder are removed. Once the root causes of the disease are removed, the disease lessens in strength or disappears altogether. Additional remedies - such as herbs and lifestyle practices - focused on the specific disorder, can greatly enhance your healing.
GET STARTED
To get started on your Ayurvedic journey, we first recommend that your find your body type by taking our free quiz. In Ayurveda, every solution is based on your unique body type, so by taking this quiz, you'll get the best results.
FIND YOUR BODY TYPE
5 WAYS TO HEAL YOUR BODY
WITH AYURVEDA - FREE REPORT!
New to Ayurveda? Not sure how Ayurveda can help you? This free report shows you 5 simple ways you can heal your body with Ayurveda. It shows you simple, practical ways manage your health.
About the Author
John Immel, the founder of Joyful Belly, teaches people how to have a healthy diet and lifestyle with
Ayurveda biocharacteristics
. His approach to Ayurveda is clinical, yet exudes an ease which many find enjoyable and insightful. John also directs Joyful Belly's
School of Ayurveda
, offering professional clinical training in Ayurveda for over 15 years.
John's interest in Ayurveda and specialization in digestive tract pathology was inspired by a complex digestive disorder acquired from years of international travel, as well as public service work in South Asia. John's commitment to the detailed study of digestive disorders reflects his zeal to get down to the roots of the problem. His hope and belief in the capacity of each & every client to improve their quality of life is nothing short of a personal passion. John's creativity in the kitchen and delight in cooking for others comes from his family oriented upbringing. In addition to his certification in Ayurveda, John holds a bachelor's degree in mathematics from Harvard University.
John enjoys sharing Ayurveda within the context of his Catholic roots, and finds Ayurveda gives him an opportunity to participate in the healing mission of the Church. Jesus expressed God's love by feeding and healing the sick. That kindness is the fundamental ministry of Ayurveda as well. Outside of work, John enjoys spending time with his wife and 6 kids, and pursuing his love of theology, philosophy, and language.
Comments & Personal Experiences
How does 'sensitive / overactive bladder' affect your quality of life? What aggravates it? What has helped you? Is there something you'd like to know about 'sensitive / overactive bladder'?
4 likes
Sign in to review this symptom